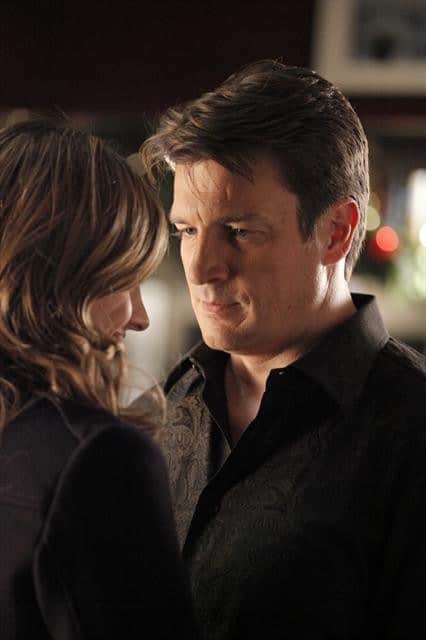 It took five seasons, but ABC's hit drama Castle finally got its own special Christmas episode. Scheduled to air this next Monday (Dec 3), "Secret Santa" will have our dynamic crime-fighting duo investigating – wait for it – Santa Claus' murder. No, I am not even joking.
I already had a chance to watch the episode beforehand and I can tell you this much, our favorite kickass detective is feeling the pressure of spending Christmas with Castle for the first time as the holidays mean different things to each of them. I really enjoyed this episode, although it didn't really address some of the issues that I thought would emerge in these circumstances. Nevertheless, it was a really fun episode with a really touching ending.
Now, some of you Castle fans sent in your questions about the episode and I have selected a few to answer here.
Is Jenny seen onscreen, or does Ryan just talk about her? – @chevron_heart
Unfortunately, we don't get to see Jenny, but guess what! Ryan makes an awesome decision about their relationship.
Will there (finally) be a scene with Beckett and Alexis in this episode? – @Lauren_227
Not onscreen, no. I know, I was frustrated about this too.
Favorite line from the episode? – @liveagoodstory
"… and now Santa is dead?! When will it end?!" – Richard Castle
Anything you can tell us about Esplanie in the Castle Xmas episode?Will the Esplanie shippers love it? We miss them SO much.. – @Esplanie_Org
There is a very interesting moment between them in this episode, I can tell you that much.
Will we be able to see a kiss between C & B? Just that! – @LovingCastle
Well, it is Christmas, you know…
I also bring presents to you guys in the form of sneak peeks, which you can check out and satisfy your curiosity below:
[FLOWPLAYER=http://www.tvovermind.com/wp-content/uploads/2012/11/CSL509_fv1.h264HD.png|http://www.tvovermind.com/wp-content/uploads/2012/11/CSL509_fv1.h264HD.flv,480,320]
[FLOWPLAYER=http://www.tvovermind.com/wp-content/uploads/2012/11/CSL509_fv3.h264HD.png|http://www.tvovermind.com/wp-content/uploads/2012/11/CSL509_fv3.h264HD.flv,480,320]
[FLOWPLAYER=http://www.tvovermind.com/wp-content/uploads/2012/11/CSL509_fv2.h264HD.png|http://www.tvovermind.com/wp-content/uploads/2012/11/CSL509_fv2.h264HD.flv,480,320]