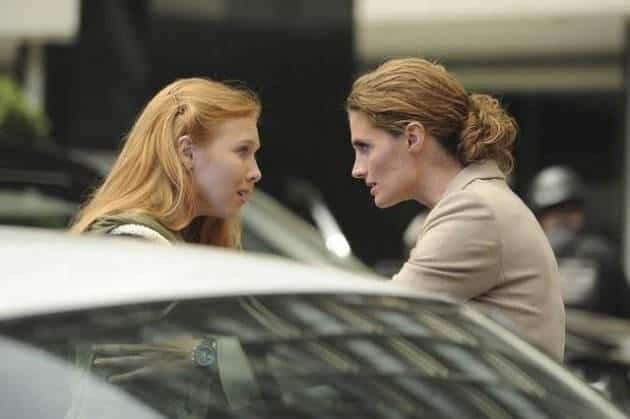 Castle fans, the sneak peeks you have all been waiting have finally been released. I think we are all extremely excited for next Monday's episode "Cops & Robbers", which will have Castle and his mother held hostages during a bank heist. Beckett will be pretty much powerless to help, even though the sneak peeks point to the fact that she will be involved with the negotiation to free the hostages.
This episode marks the beggining of the November Sweeps and, as most of you know, that is when the must-see episodes air. In "Cops & Robbers" we will have a never seen before situation, as Castle and Beckett will be separated for probably most of the episode in life threatening circumstances. Hopefully, that will encourage some significant movement forward in the Castle/Beckett front. Let's not forget that we will finally get a Beckett/Alexis scene that I know most fans – me included – have been waiting for longest time. And if that sneak peek below is any indication, it looks like Alexis won't be so trusting and friendly where Beckett is concerned.
All in all, it looks like we are in for a really intense episode, guys. Let's just hope it'll be as awesome as it looks.
"Cops & Robbers" is scheduled to air next Monday, October 31st, at 10/9C on ABC.