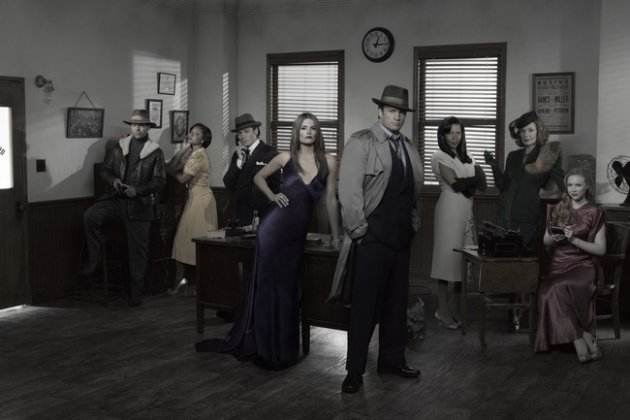 Ever since the scoop about Castle doing a noir episode was released, I have been on the fence about it. It wasn't exactly a surprise if you think that the promotional cast photo for this season was noir themed, but I was still holding out hope they wouldn't go down that path. And it was all for nothing because just a couple of months later the information that a noir episode was in the works came out and crushed my last hope. I may be in the minority here, but I really don't like when my shows change that much. My other noir experience with a show I love was 'Brown Betty'on Fringe and that episode was a total disaster for me.
That said, I was still on the 'let's wait and see'team about the upcoming Castle episode 'The Blue Butterfly'until more and more information started leaking. The latest piece of info was released last night by TV Guide and I have to be honest here, guys. I don't like it. At all. They talked to Stana Katic and here is what the actress had to say about the episode:
"What fans will see is probably the fulfillment of what most any fan would like to see happen with the Castle and Beckett relationship. Fans will be seeing the ultimate expression of love for those two characters."
I hope this is just TPTB trying to get the fans talking, but if we are to interpret what Katic said literally, I can only come up with one conclusion and it is something I really, really didn't want to see on the show. If they are going to kiss, jump each other, have sex, whatever, I'd rather it be for real and not in a dream sequence or a fantasy. Because, if so, then they are just yanking our chain, aren't they? Remember 'Countdown'last season and how everyone felt cheated when Beckett got back together with Josh after everything that had happened? Unless there is some significant movement forward after that fantasy, it will all be kind of pointless and I feel that if they pull a stunt like that, the fans will feel cheated just like last season.
You all know I am all for being patient and trust the producers, but I think it's getting to a point that they need to do something in order to keep the viewers'attention. Like I mentioned in my review for this week's episode, it's great that they have these cute moments and we all know they love each other — hell, they know they love each other — but unless they do something to shake things up, those moments will get old pretty fast. But then again, if by shaking things up means that they'll get them together in a story happening in Castle's mind, then I don't know what's better (or worse).
Anyway, just my two cents. I really hope I'm wrong and that it turns out to be a fantastic episode, but until then, I am not exactly looking forward to it.
Am I the only one dreading this episode? Sound off in the comments below.