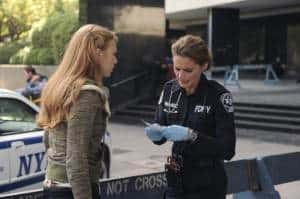 Oh this episode is going to be so good, my fellow Castle fans. Ever since it was announced there would be an episode where Castle would be held hostage, I have been insanely excited about it. Just think of all the repercussions this scenario could possibly have. Castle in danger, Beckett not knowing what happened to him? Oh, the possibilities!
I was already really looking forward to episode 7 of season 4 – titled "Cops & Robbers" and scheduled to air on October 31st – because, you know, it is just a really juicy plotline that could really help move Castle and Beckett's relationship the story along. That was before I saw the promotional pictures for the episode. My excitement now? Through the roof. I am actually half dreading it now because I am afraid it might not live up to my expectations, but come on. Have you seen those pictures?
We know that Castle is going to be in the bank with his mother when a hostage situation occurs. From the photos, it looks like Detective Kate Beckett will be doing a ride-along with the paramedics, which is actually surprising and sounds really cool.
This episode is going to be so good. I can feel it.