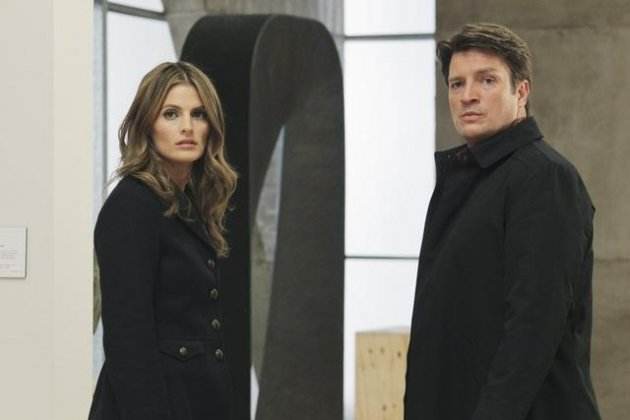 Well, I have to say that the upcoming Castle episode, "Eye of the Beholder" is sounding more and more deliciously infuriating. As you all probably already know, next week Castle and Beckett will be investigating a murder linked to a very valuable sculpture. Kristin Lehman (The Killing) guest stars as Serena Kaye, a a smart, sexy insurance investigator who offers her services in order to help them with the case. The problem is she also sets her eye on Castle, which will just drive Detective Kate Beckett up the wall in jealousy.
As you can see in the clips below, Castle will be a little taken with Kaye and Kate will most likely be killing the blonde in her mind several times over the course of the episode. Personally, I just hope this insurance investigator turns out to be the murderer or something equally twisted, just to punish Castle. The guy is supposed to be in love and now he's chasing after another woman? Seriously?
Yes, I am definitely taking Kate's side on this one. And of course, a jealous Kate Beckett is always entertaining as we already got to see in "Nikki Heat" last season and in the two-parter in season 2 when Dana Delaney guest starred as Agent Jordan Shaw.
Don't forget to check out the polemic promotional photos for this episode.
"Eye of the Beholder" is scheduled to air next Monday, October 17th, at 10/9C on ABC.