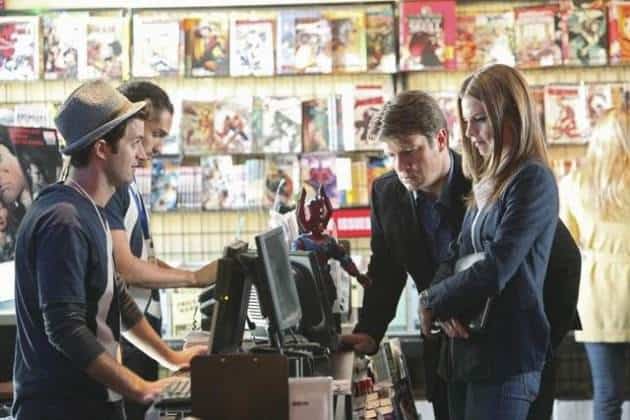 After kicking off its 4th season last week with quite a bang (the ratings were very impressive), ABC's hit show Castle returns this week with a rather unusual episode. Featuring what is probably the most gruesome murder yet (although the one in the pizza episode last season is a serious contender for the first place in this competition), "Heroes & Villains" will have Castle and Beckett diving in head first into the world of comic books and superheroes as they investigate the murder of an ex-con who was mysteriously slain in an alley. Our favorite dynamic duo believes a vigilante is behind the murder. Their main suspect, however, roams the city in a Superhero costume – and may just actually be a Superhero.
From the sneak peeks posted last week, we also know that this episode will be dealing with the fact that Alexis is excited about joining her boyfriend, Ashley, at Stanford – all the way across the country – as soon as possible. Castle is obviously not happy about that and I am willing to bet he will be struggling with this throughout the episode and will most likely seek Kate's advice on the matter.
"Heroes & Villains" will also feature the launch of Richard Castle's Deadly Storm, the official Castle graphic novel, which is already available for purchase. Don't forget to check out the promotional photos for this episode and, in case you missed it last week or need a refresher about what happened during the season 4 premiere, take a look at my "Rise" review.
Castle is scheduled to air tonight, September 26th, at 10/9c on ABC. Check out the sneak peek below.