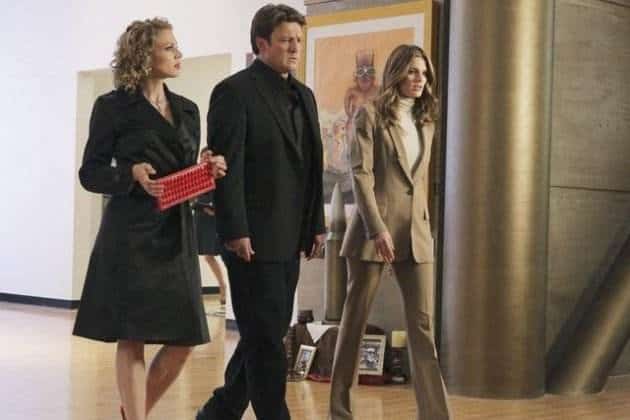 The wait is over, Castle fans. Tonight we will finally find out just what those incriminating promotional photos, that have been driving the fandom crazy for the past couple of weeks, are really all about. In "Eye of the Beholder", Castle and Beckett will investigate a murder that is linked with the theft of a very valuable sculpture. All seems fine and normal until Serena Kaye (guest star Kristin Lehman), a smart, sexy insurance investigator, joins the dynamic duo in the investigation, but she also has her eyes set on Castle, all the while hiding a very important secret from the team.
In case you haven't seen the polemic pictures, they show Castle doing something that has the fandom – and Kate Beckett – crying foul before the episode has even aired. And after all that has happened since the last stretch of episodes in season 3, I just hope there is a very good explanation for what is supposedly going to happen in tonight's episode along with a very nice resolution.
But then again, the promotional photos of the two episodes ("Demons" and "Cops & Robbers") following "Eye of the Beholder" are already out and all seems to be just fine in the Castle & Beckett world – especially in episode 4.07 "Cops & Robbers". Don't forget to check out the sneak peeks for tonight's episode.
Castle airs tonight, October 17th, at 10/9C on ABC.