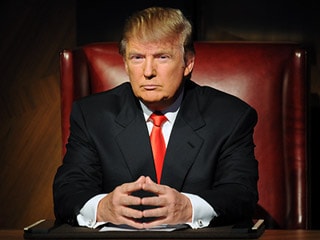 We knew it would come eventually, but it is now official that Celebrity Apprentice All-Stars will be coming to a TV screen near you in just five short months. With the fourteen former contestants announced and ready to give it their second go around, filming is set to begin on Monday with a March premiere.
This time around, The Donald certainly has his hands full with some of the biggest characters and most boisterous contestants returning for the season. So who are these celebrities that Mr. Trump has deemed worthy of the title "All-Stars?" Let's begin with the men.
After a near win in season 7 of Celebrity Apprentice, country singer Trace Adkins has decided to see if he can take it all this time around. Joining the country singer are actor and famous sibling Stephen Baldwin, magician Penn Jillette, rapper Lil Jon, former NBA basketball player and hall of famer Dennis Rodman, actor Gary Busey, and Twisted Sister front man Dee Snider.  Rounding out the men's team is former Celebrity Apprentice winner and rock star Bret Michaels.
Making up the women's team for this season of Celebrity Apprentice All-Stars is actress Marilu Henner, Playboy Playmate Brande Roderick, actress Claudia Jordan, singer La Toya Jackson, actress Lisa Rinna, and infamous reality star (from season 1 of the regular Apprentice) Omarosa.
With so many big personalities returning to the show, there is inevitably going to be no shortage of drama and conflict, which I suspect, is just what the franchise is hoping for.  "We wouldn't have done the 'All-Star' concept unless we were able to get the right contestants back," Donald Trump said in a statement.
Noticeably missing from the list of celebrities returning are other larger than life personalities such as Joan Rivers, Piers Morgan, Arsenio Hall, and John Rich, but not to worry, they won't be completely absent from all the fun. These former Celebrity Apprentice winners are rumored to be found sitting on the other side of the table this time, joining Mr. Trump in the boardroom as advisors.