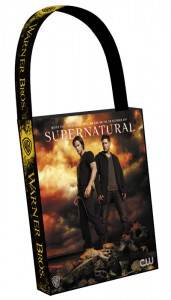 Since 2006, Warner Bros. has partnered with Comic-Con to bring attendees special giant bags to promote their shows. These bags are traded on the convention floor and made into all manner of mementos, including, on a few memorable occasions, dresses. This year, Warner Bros. will be using the bags as an opportunity to advertise television shows such as Arrow, The Big Bang Theory, DC Nation, Fringe, Supernatural and The Vampire Diaries, along with motion pictures Man of Steel and Pacific Rim.
Over 130,000 of the oversized 24″x29″ bags – which have been called Comic-Con's "ubiquitous accessory" by Entertainment Weekly and "a must have" by Deadline Hollywood – have been produced and will be provided to Comic-Con attendees as they check in to the convention.

The 2012 edition will be a messenger-style bag with shoulder strap and, of course, a poster-protecting pocket.
In addition to these bags, Warner Bros. partnered with TV Guide for a special Comic-Con edition containing spoilers for many of its new and returning shows (read more information here).
Use the arrows above to browse through photos for the bags. San Diego Comic-Con will take place July 12 to 15 this year.