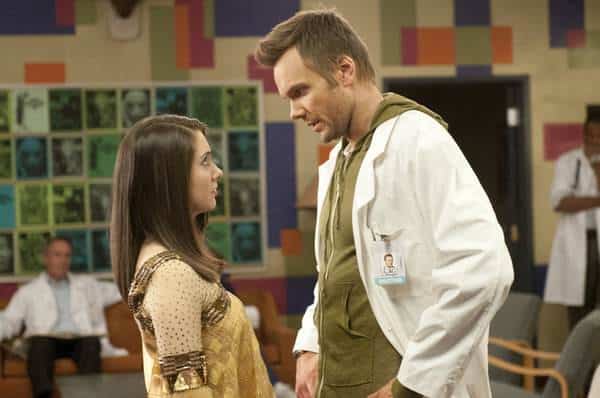 'You never know what kind of day you're going to have.'So says Abed Nadir in tonight's episode. The sentence refers to the events that transpired during a three hour lunch, but with that sentence, Abed could have very well been talking about Community — the show where you never quite know what kind of episode you're going to get. With that in mind, let's dive into 'Virtual Systems Analysis'and see what the Dreamatorium has to show us…
As usual, the group is cramming for their biology exam, with Britta hilariously poking fun at the group by asking why they always end up in this position despite the fact that they spend so much time in the study room. Troy amusingly suggests they never get any work done because they're having too much fun. Did someone say fun? Cue the entrance of Dean Pelton and his crazy costume of the week. He has good news and bad news — the bad news is that Professor Kane has the flu. The good news is, the exam has been cancelled. While Britta celebrates not having to study, Jeff lights up at the prospect of a three-hour lunch. He tries to get the rest of the group on board, but Abed and Troy are content to use the extra time to play in the Dreamatorium, – that is, until Annie intervenes and slyly convinces Abed (after a bit of not-so-subtle nudging) that Britta and Troy should go to lunch together (hint, hint.)
Annie offers to play with Abed in his Dreamatorium in place of Troy, an offer Abed reluctantly agrees to. However, it soon becomes clear that while Annie is certainly game to cater make believe scenarios, she doesn't quite have the same emotional intensity that's required to deal with Abed's imagination. Abed soon stops the Inspector Spacetime stimulation, while Annie calls him out for being mad about her plan to get Troy and Britta to spend more time together. Abed counters that Annie messed with the dynamic of the group — how did she know that Troy and Britta would even work out as a couple? He soon delves into a scenario that allows Annie to see what he thinks will happen between Troy and Britta at dinner (lovely work by Donald Glover and Gillian Jacobs with Danny Pudi seamlessly transferring between the two characters.) In the middle of all of this, Troy calls Annie to see how Abed is. He cautions her to the fact that Abed gets 'slightly sensitive'in the Dreamatorium and tells Annie to take it easy on him, though Annie merely thinks Troy is overreacting (Britta, meanwhile, just thinks it's sweet how much he cares about his best friend.)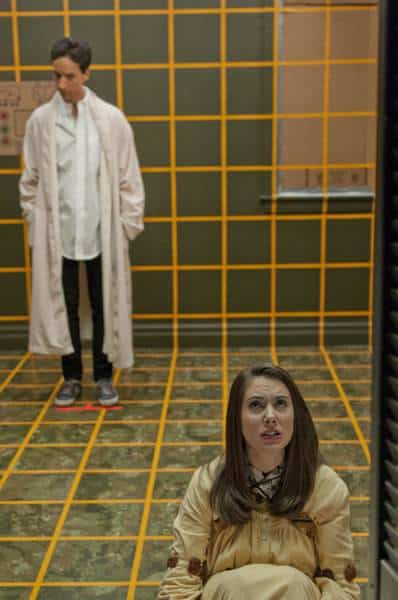 Fed up with the fact she seemingly can't get through to Abed, Annie angrily tells him to think about how the things he does affect the people around him — instead of how the actions of people around him affect himself. In response, Abed collapses (anyone else have 'oh my god, they killed Abed!'moment?) When he comes to, he's no longer Abed — he's Jeff. Jeff the Doctor, no less, who works at Greendale. I really loved how this episode smartly managed to work the entire study group into the picture while primarily focusing on only two characters — the entire execution of this half hour was from the Dan Harmon School of Cracked Brilliance, and I want admission for enrollment.
A frustrated Annie plays along, asking about Abed. Jeff says he's never heard of him and brings her to Troy and Britta, who also claim that no one's ever heard of a patient named Abed. Annie attempts to play into Abed's fantasy even more by pretending to shove truth serum into Troy's arm, and what follows is a hysterically amusing sequence where Troy breaks down in a moment of panic and admits everything BUT where to find Abed. The two then come upon Shirley and Pierce, where Shirley again repeats that Abed doesn't exist — and also that no one needs him. 'I need him!'Annie proclaims desperately, which finally forces Jeff to get Abed's file. He promises to take her to him, but instead takes Annie to a scene outside the school — a replication of the last week of the first school year, when the two shared their first kiss after the Transfer Dance. Annie is confused, but Abed won't budge when she tries again to break through to him. Instead, as Jeff, he pretends to read his own file and rattles off more self-deprecating statements about himself – 'Abed Nadir, control freak with no empathy, people bend over backwards to cater to him.'He point out Annie's signed name, indicating she was the one who said these things, and then tries to convince Annie that they're in this situation because this is her dream. He tries to kiss her (as Jeff) and Annie freaks out (it was probably nothing, but I did wonder if that was a slight nod to the kiss Abed and Annie shared at the end of last season's paintball war.)
Abed asks where Annie wants to go next and then turns into Annie, forcing her to have a conversation with herself. Annie turns the tables, however, changing into Abed and forcing him to look himself and his insecurities in the face. Chang shows up, arrests Abed 'for being Abed'and shoves him into a locker. When Annie comes to find him, he admits that this locker is where he spent a lot of time in junior high. He tells her that being alone is where he'll end up when everyone is finally fed up with him, and that he knows he's not special — he can't do anything that sets him apart in the world, like invent things or be cool enough for people to want to get to know him. And without Troy, he's just someone who makes up silly scenarios and never really fits in.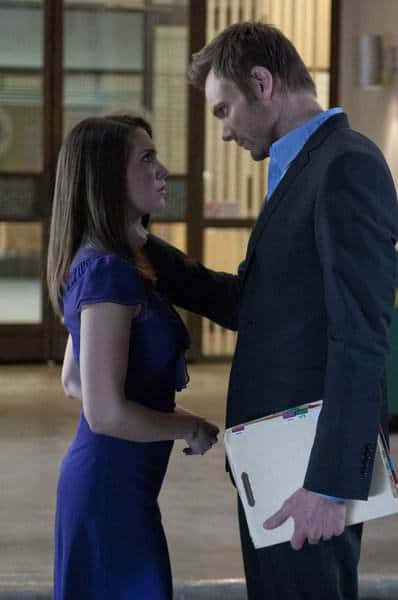 Annie finally seems to realize how Abed's insecurities are manifesting themselves, and tells him that his stimulations are nothing more than anxiety. 'You share that with all of us,'she says — ain't that the truth. There's not one member of this study group who isn't insecure and even the ones with the most confidence — Jeff and Britta — are more insecure than they would ever let on. The trick is that if you're good enough at pretending, no one knows how insecure you really are.
Annie's talk seems to hit home, and Abed soon snaps back to his old self. He slips back into Inspector Spacetime mode, and this time, gives a little leeway to Annie when she plays along differently. It's fun to see Annie getting out of her comfort zone and 'committing'— it's even more fun to see her do it with Abed.
With Abed feeling better about himself, Annie feeling satisfied that she's helped her friend through his issues, and Britta and Troy having had a good lunch (Troy even set the waiter straight about his "Die Hard" feelings), it's time to get back to the basics…but not before another interruption from the Dean, who claims that despite his worry that his outfit was too 'over the top,'the bank loved it (I kind of wonder sometimes who Dean Pelton shared all his costumes and feelings with before the study group was formed. Probably Star Burns or Lenoard.)
The tag for the episode is Troy and Abed In the Morning (oh, how I've missed it!) with special guest Annie who has advice on how to spruce up living spaces for cheap. Unfortunately, Annie goes a little too far and rearranges Troy and Abed's bedroom — can we say, Cougarton Abbey scream?
What did you think of tonight's episode? Did you love the wackiness of the Dreamatorium?