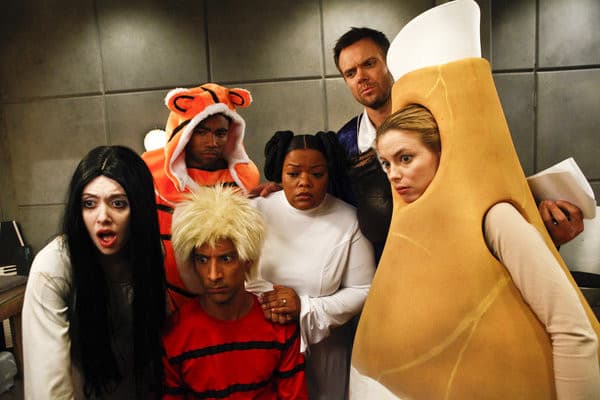 Let's start off with the costumes: Shirley was Princess Leia, Abed and Troy were Calvin and Hobbes, Britta was a piece of ham, Jeff was a boxer and Annie was supposed to his ring girl, but seeing they "just texted" about it, she went as the Samara from The Ring. Thank God Dean was able to save Jeff's costume by coming as a ring girl. As much as Britta really knows how to Britta all things in life, she sure knows how to pick awesome costumes!
Side note: Cougar Town should have a Hallowine episode. Get it done Bill Lawrence. I also love that Annie loves Cougar Town as much as Abed.
Pierce was locked in his panic room and asked the study group to help get him out. Turns out it was all an elaborate plan to punish the group for not inviting him to Vicky's party by scaring the crap out of them. Then again not all the scary stuff was being done by Pierce. Gilbert was secretly living at Pierce's house because he missed being able to take care of someone since Cornelius died.
Well, it looks like this season of Community is 0-2 for me. The episode wasn't all that funny and didn't really have any standout moments except for the Cougar Town shout outs. I feel like the new creators of the show are trying so hard at being Dan Harmon that it's coming off as forced and not organic.
In the end, it looks like Jeff went as a boxer because he found a pair of gloves that belonged to W. Winger, his father. With the number he found three weeks ago, Jeff gave his dad a call.
Uh-oh, I don't really like where this season is going.