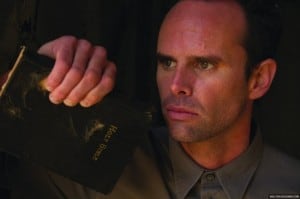 Do you guys watch the amazing show, Justified? Do you know who Boyd Crowder is? Well, looks like Walton Goggings, who plays Boyd (and used to be on The Shield as well) may be on Community one episode for season five. And anytime we hear that "one episode" thing, that tells us much of what we already need to know. He will, most likely, be playing someone insane. And with Dan Harmon back at the controls, it is safe to say Goggings episode and character will be one for the ages.
Uproxx (per usual) has the whole story, but we can give you some slim-pickings on the details. Walton Goggins will be playing an elusive and mysterious man who gang comes into contact,  and whom makes some VERY bad accusations against our favorite college dwellers, and ends up concocting a plan that will change the group forever. Well, that is neither cryptic nor ominous at all, and we are sure he will just be some sweet men they meet one day and get back to their lives.
Psych!
This is Community, afterall, so he will probably look like the weird, German guy from the original Willy Wonka. or he will be the devil himself. Things at Community never run as smooth as they should. Having said that. we are really looking forward to what dark spins Walton Goggins will have in mind from the Greendale crew next season, and will let you know when the episode airs.
In the meantime, always stay "streets ahead".