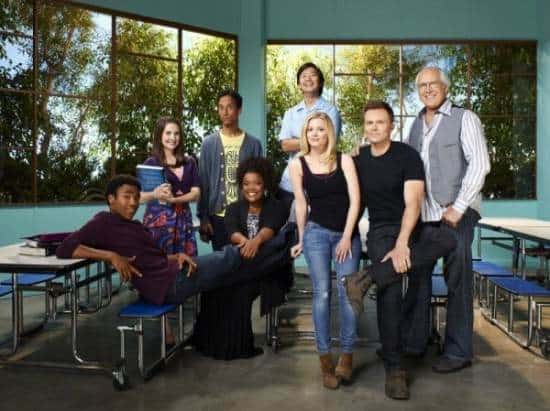 The cast of Community returned to set this week for season 3 and have been tweeting up a storm about guest star Michael K. Williams (The Wire, Boardwalk Empire). Williams will be playing the groups new intense biology teacher Professor Marshall Kane. Since this casting announcement was made there has been a further two names added to the guest star list; one a huge name and the other a fan favourite from two much beloved but 'cancelled too soon' shows.
John Goodman who is currently appearing in season 4 of Damages, has signed on for at least 6 episodes and will play the vice dean to the only successful program that Greendale runs; the air conditioning repair program. This means that we will be seeing Goodman facing up against Dean Pelton (Jim Rash- who has deservedly been bumped up to season regular). Showrunner Dan Harmon spoke to Vulture about this exciting prospect saying:
"When I heard we were going after Goodman, I got really excited about the idea of Jim Rash and Goodman on camera together."
TVLine has revealed that the other actor who has signed on as a guest star is Freaks and Geeks and Party Down hero Martin Starr. Starr is slated to appear in the second episode of season 3 as a poly-sci professor and project advisor who will show us into the world of Model United Nations simulations. This sounds like a class that will provide some very interesting and funny scenarios as some of these characters are anything but diplomatic. In another Community connection Starr has recently shot the film Save the Date with Allison Brie (Annie). Starr is only signed on for one episode but there is a chance that he will return at a later date. All three of these guest stars seem like superb choices and I'm very much looking forward to seeing them interact in the world of GCC.
Some other details about season 3 emerged from the Community Comic Con panel including;
Troy (Donald Glover) and Abed (Danny Pudi) will be moving in together. Abed was reluctant to have this big commitment at the end of season 1; will his fears be correct or will they have endless fun with activities such as fake morning shows and blanket forts?
Episodes that are in development include another Halloween adventure and one that involves multiple timelines.
They will address why the group would still want to hang out with Pierce (Chevy Chase) despite his really awful behaviour.
The Annie/Abed kiss was not given too much weight as it was just Abed's Han Solo moment.
Chang (Ken Jeong) will get some of his power back in season 3 (Harmon told TV Guide that Chang would get to become a security guard this season). The idea is of Chang as this Gollum like figure and in this case it's as if Gollum got to keep the ring in The Lord of the Rings.
Dan Harmon also revealed some other interesting spoilers for season 3 to TV Guide including an overview of what each character will face this year. Britta (Gillian Jacobs) will finally figure what she wants to do with her life and pick a major. Annie will do battle with both a new rival and herself, will we be seeing 'Little Annie Adderall'? Pierce has to atone for his previous misdemeanors and this conflict will be addressed in the season premiere. Troy faces a personal battle as he is torn between his talent for plumbing and another not yet revealed occupation. After her reconciliation with her husband and new baby, Shirley (Yvette Nicole Brown) will evolve this year and like Britta, will make decisions about her life. Abed will see the downside to his disconnection, Harmon says that:
"We've seen lots of him being a superhero in his disconnection, and I want to see what the price of that disconnection is sometimes, in stories that challenge him more."
This will be a big year for Jeff (Joel McHale) as it looks like we might meet his father (dream casting?). As seen in "Intermediate Documentary Filmmaking" this is a very touchy subject for Jeff and a possible reason for his flippant attitude toward relationships. Harmon explains that this is a big season in the evolution of Jeff:
"The third chapter for him is going to be the toughest of all. When you love people, their pain is your pain. Nobody likes having to deal with hassles more than Jeff Winger, and nobody's going to have to deal with more this year."
With these guest stars and this insight from Harmon regarding the direction of season 3, I am more than ready to go back to Greendale. Roll on September and the new term.
Community season 3 premieres Thursday, September 22 on NBC. The DVD of season 2 is released September 6.