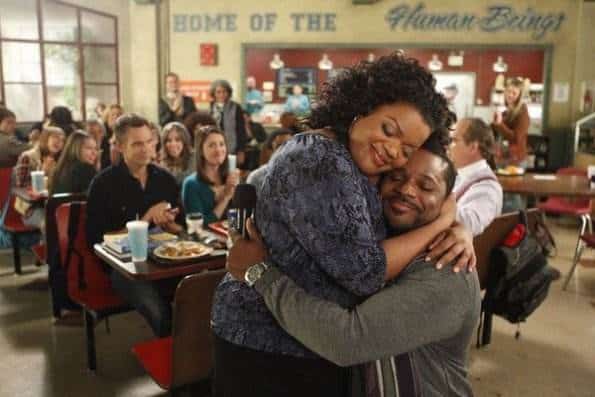 We have more Community related videos to end the week with and to celebrate the return of Greendale's finest. The first episode of this second half of season 3 has the wonderful title of "Urban Matrimony and the Sandwich Arts" and will see one of the study group receiving a proposal. Warning spoilers ahead.
Shirley (Yvette Nicole Brown) is the lucky women in question as ex-husband Andre (guest star Malcolm Jamal Warner) proposes to his ex-wife in a lavish and public fashion. Shirley accepts this proposal and the group sets about preparing the wedding, even if some don't believe in marriage as an institution.
It isn't surprising that Britta (Gillian Jacobs) and Jeff (Joel McHale) are the two that are opposed to getting married and Jeff suggests that people should "nut up and die alone." That doesn't stop them from getting involved and Britta teams up with Annie (Alison Brie) to plan the wedding; this should provide some interesting conflicts as Annie is all for weddings. As we have seen before Jeff is king of a good speech and he has been asked to do the speech on this occasion, let's hope he can hide his feelings about the idea of marriage and deliver. Elsewhere Troy (Donald Glover) and Abed (Danny Pudi) decide to be 'normal' for this event.
So where does the sandwich arts come into the episode and why is Pierce (Chevy Chase) dressed as Gordon Gekko? Pierce and Shirley have a business proposal for the Dean (Jim Rash) and they pitch the idea of a sandwich shop in the cafeteria, so maybe Pierce is dressing how he believes a successful business man should look. Regardless of the motives he looks pretty funny in this 80s style.
We also have the second and third parts of the animated webisodes "Abed's Master Key" which is a delightful adventure from the Greendale crew. There is also a nice nod to Jim Rash's recent Oscar win in part 3 of this animated short.
For more on Community check out this epic promo here and a teaser from stars Joel McHale and Jim Rash here.
Watch two sneak peeks for the March 15 episode, airing at 8 PM on NBC and the bonus animated webisodes below.