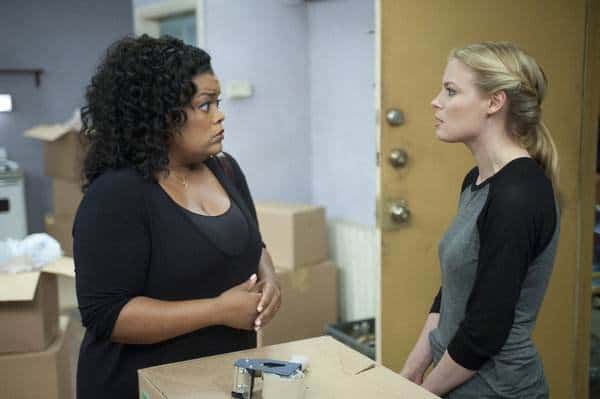 "Studies In Modern Movement" starts with the packing up of Annie's ghetto apartment, where Britta tries to teach the 20-year-old the specifics of 'roommate drama" since our sweet Annie can't believe she'd ever get sick of her two friends. Troy and Abed show up not moments later, decked out in their '#AnniesMoves'shirt (they're live tweeting the entire move, using that particular hashtag) while Pierce arrives with Shirley, asking where Jeff is. He had told the group he was apparently sick and an unbelieving Britta calls him up, attempting to catch him in a lie. She should know by now that Jeff is smarter than that — he's trying on clothes at the GAP (just like she predicts) but by bribing a saleswoman to act like a doctor, he convincingly is able to lie to Britta about being in the hospital.
Annie realizes that she's almost out of packing tape, and then finds out that Abed's used it all to tape Troy to the back of the bathroom door. It's all a little too much for our favorite perfectionist, who very nearly cracks at the immaturity level she's choosing to subject herself too until Britta drags her outside and tells her a hilarious story about when she lived in Amsterdam with a guy who did too many drugs. 'Loosey goosey,'she says to Annie, telling her she should just go with the flow and try to be less uptight (love that Britta's loosening up advice came from getting high.) Annie agrees, and when she comes back into the apartment and finds her bubble wrap gone (Troy wrapped Abed's head in it) she manages to keep her cool — even when Troy breaks one of her outlets. She leaves with the boys to drive over to their apartment, while Pierce stays to try to fix up the apartment. Shirley is forced into driving with Britta when Pierce offers to drive her himself.
At the mall, Jeff is checking out when he comes across none other than Dean Pelton, sipping on a food court drink and looking rather un-Dean like in sunglasses and a casual shirt. 'It's Saturday, call me Craig,'Dean Pelton says, adding that he knows about #AnniesMove from Twitter. He also knows about the fact Jeff is supposed to be sick, and threatens to tell everyone where Jeff is unless he spends the day with him. Knowing he has no choice, Jeff agrees and the two end up at lunch at a Mexican restaurant — complete with a serenade from the mariachi band. I can't be the only one who was happy to see these two guys finally getting a chance to share some much overdue screen time together — away of Greendale, no less.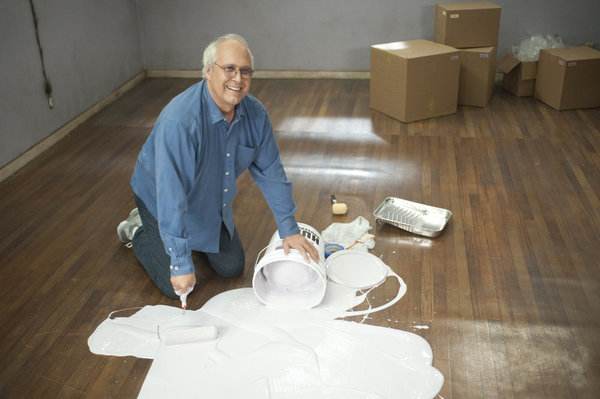 Britta and Shirley drive over to the apartment while having their usual argument regarding Shirley's intense Christian judging versus Britta's amoral atheist beliefs (seems that this will be an ongoing theme of the season.) Out of anger and to prove her point, Britta immaturely decides to pick up a hitchhiker, who promptly gets in the car and starts spouting off sentences about Jesus (which makes Shirley incredibly uncomfortable.) Pierce, meanwhile, is helping to repaint Annie's apartment but finds himself getting high off the fumes instead when he accidentally locks himself in the windowless room space.
Back at la casa de Trobed, the boys introduce Annie to the apartment and her new room. Thinking she was getting the one bedroom of a two-bedroom apartment, Annie's less than thrilled to find out her room is nothing more than a blanket fort (albeit a very nice one.) But what did Britta tell her to do? Smile! Act loose! She pretends it doesn't bother her and Troy and Abed try to make her happier about the situation by telling her that they're going to be spending a lot of time in the fort together (mainly watching television.)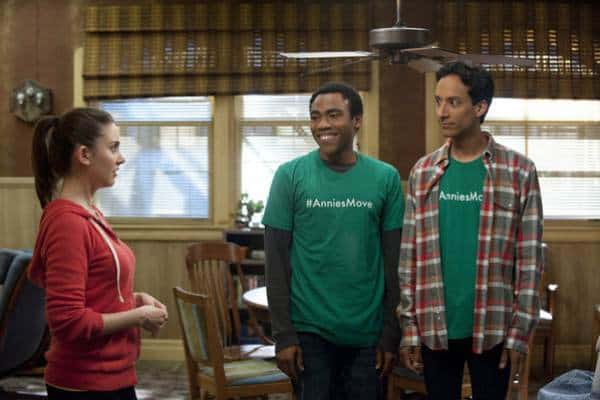 Back at the mall, Dean Pelton (now similarly dressed to Jeff) takes our favorite non-laywer to karaoke where the two launch into a hilarious rendition of 'Kiss From A Rose,'coupled with a montage that focuses on where all our characters are at this point in the episode – Britta and Shirley are still enduring their hitchhiking, Jesus-loving friend (who is now singing about marijuana and human blood) and Pierce has hallucinated from the paint and is imagining himself as a piano player with hula dancers. Meanwhile, Troy and Abed are still attempting to get Annie back into 'fun'mode, this time by putting on a shadow puppet show about 'Princess Annie who was saved from her bad neighborhood by Woodsman Troy.'The trick seems to work, and Annie finds herself smiling again by the time they're done.
And then? Everyone loses it. Shirley and Britta finally kick their hitchhiker out of the car, Jeff finds out that Dean Pelton reads student emails (therefore knowing that Jeff would be shopping today) and Annie? Well, she's fine until, in her happiness of realizing how fun living with Troy and Abed will really be, walks into the yet unseen 'closed off'room and finds that it's a space they've designed as a virtual adventure room. They call it a 'dreamatorium,'but Annie, realizing that her real bedroom has been shafted for a blanket fort (or, 'an asylum for half-witted children') can't see the humor of the situation. She finally breaks down, saying she's sick of adapting to everyone and doesn't want to keep trying to fit in. She storms out and goes back to her old apartment, where she finds Pierce recovering from his hazardous fumes meltdown. Annie asks him to drive her back so she can move her stuff and go back to living alone, but when they arrive, they find that her stuff isn't there. It's in Annie's new, real room — the room that was formally Troy and Abed's (they've moved the dreamatorium to their old room and taken up residence in the blanket fort.) The study group has spent the time since Annie's departure getting it all set up. Troy and Abed apologize for getting lost in their own little world, though it turns out they really have an ulterior motive for giving Annie her deserved space (think laundry, dishes, and nurse duties.) Yes, it may seem like Annie got the short end of the stick, but somehow, I think this will all work out — at least, for a few episodes.
Jeff finally shows up as the group finishes decorating, and to his embarrassment finds out that everyone knows about his shopping adventure with Dean Pelton since it was twittered earlier that day. The tag for the episode is Britta and Jeff watching the group perform another shadow puppet show in the blanket fort.
While a little slowed down compared to the past few weeks of fast-paced, expository heavy episodes, tonight might have been one of my favorite episodes to date. The scenes between McHale and Rash were absolute gold (here's to hopefully more will be seen in the future) and of course, we got to see our favorite study group deal with what seems to be one of the major themes of season 3 — growing up.
What did you think?