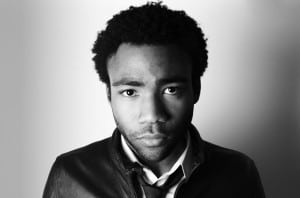 Remember those odd letters we posted about Community star Donald Glover? The ones that made him sound incredibly manic and depressed? The ones scrawled on hotel stationary in what looks like a frantic scribble? The ones he left for strangers to find,  but posted on Instagram anyway? Yes, those. Well, seems People magazine has sat down with the actor to set some things straight. The kicker here is, no matter what he says, all signs point to depression here.
In what amounts to a very personal and honest interaction, seems Glover was just trying to get some of his feelings out after a particularly draining day. He tells People, "If I am depressed, than everybody's depressed", saying his feelings from that night were not that weird or singular to him. He says the weird part was that most people don't share when they are feeling like that, and he just wanted to get it out. He also mentions feelings of worthlessness and confusion, which actually plague everyone who is Glover's age. The transition from 20 to 30 is not easy, and it must be that much harder when done in the spotlight.
Though he definitely sounds depressed, we need to trust Donald Glover here and hope that him getting this out of his system helped him out. Sometimes, we just need to exorcise our demons. Here's hoping the talented star is one step closer to having done that.