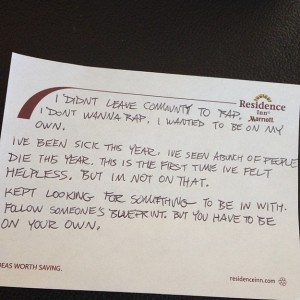 First off, Donald Glover is awesome. He really is. Whether he is playing Troy on Community, or rapping as Childish Gambino (a name he got from a Wu-Tang generator), he just brings a real likability to anything he does. It seems right now many people are up-in-arms as to why he is leaving Community. A lot of speculation that he is doing it to focus on his career as a rapper. Some say he is just leaving because the last few seasons haven't been great, and he would rather leave before it all goes South for good. The reality is the situation here is, Donald Glover tried to explain himself recently using some hotel stationary and Instagram, and he only confused us more. Almost sounds like a cry for help.
As you can see, we have the first note posted as a lead-in pic here, and you can read the others by clicking here. Donald Glover scrawled them on hotel stationary and then posted them to his instagram. He had written them about why he is leaving Community, among other subjects. Seems he is NOT doing it to pursue rap. Seems he is actually having a bit of a crisis right now. It starts off by Donald Glover saying he is NOT leaving to pursue rap. He then continues, though, and it sounds a bit alarming to us. The actor clearly sounds depressed, and seems to be in a state of anxiety. Being huge fans of Donald Glover here at TV Overmind, this has us worried. If you read the notes he left, you will see, sounds like he is very close to pulling a Dave Chappelle. Remember, when Chapelle became overwhelmed by the industry and just disappeared. We sure hope that is NOT the case here.
We just want to offer some genuine thanks and gratitude toward Donald Glover for entertaining so many of us in so many ways. Don't let the stress get to you, my friend. You are larger than life. Check out his full Instagram here.