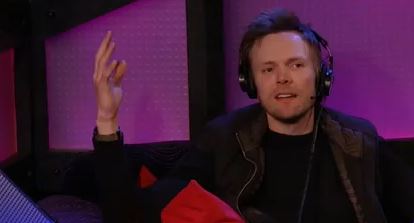 I have to say I'm not all that surprised by some of what is said here.  When the voice mail Chevy Chase left for Community show runner left for Dan Harmon was released to the public it was clear that the comedy icon had sort of lost it in his older years.  Don't misread me, no matter how bad Chase behaves he should still be firmly placed in the comedy legend column, but maybe the rigors of weekly TV just brought back bad memories for him or something, who knows.
Well, former co-star Joel McHale visited Howard Stern recently and opened up about life on the Community set with Chevy.  For starters, McHale claims that Chevy did not want to be there.  At all. McHale would try to talk to him about it and Chevy would, in McHale's view, want to physically fight with him.  "He would just try to fight me. He physically wanted to fight me."
Of course the last straw for a lot of people was when Chevy began to throw around the n-word on set.  Chevy's defenders have pointed out he only used it in the context of the level of racism his character displayed on the show, and that Chase loathed any kind of racism off screen.  McHale, however, made it sound like Chase threw the word around loosely on set and even claimed immunity because "He said that Richard Pryor said it was okay for him to call him that," McHale claims.
It should be interesting to see if the increasingly volatile Chase responds to any of McHale's claims.