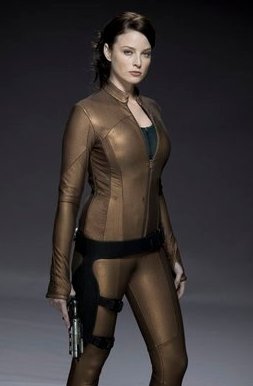 Imagine a beautiful young mother from the year 2077 with the courage and spirit of Sarah Connor embodying advanced physical and computational technology that rivals (or even surpasses) that of the classic T-800 Series Terminator and you've got "Protector" Keira Cameron. Brilliantly portrayed by the enchanting Rachel Nichols, Keira is a police officer trapped in the past (our present) and the central character of Continuum. A wonderfully imaginative television series that's already set ratings records in Canada and the U.K., Continuum is one of the boldest, most emotionally driven sci-fi action dramas I've ever had the pleasure of viewing and has finally made it's way to American television tonight thanks to Syfy.
Last week, the day after her birthday, Rachel graciously took questions from the press about the series' U.S. debut alongside Continuum's creator Simon Barry and leading man Victor Webster (Charmed, Mutant X).
One of the first questions asked was how Rachel became involved in the series? "Actually one of my best friends in the entire world got the script to me. She was the first person that reached out with the script. I loved it, which is very, very unorthodox because you usually don't get a script from your best friend that's so amazing that you immediately want to do. My team was absolutely, completely onboard and they loved the script and they loved the fact that a friend of mine had found it and we just went full steam ahead and it happened very, very quickly. We closed the deal just prior to the 2011 holidays and suddenly I was moving to Vancouver for five months on January 5th (2012). So it was a very interesting, unorthodox process for me but thrilling at the same time and very fast." The casting of Victor Webster (a.k.a. Det. Carlos Fonnegra) was even more sudden. "Well I got a call on a Wednesday asking me if I'd like to come to Vancouver to do a chemistry test with Rachel," explained Webster, "and I hadn't even read the script yet. So I was a little hesitant at first but then I read the script and was like, "Absolutely!" I got on a plane for a chemistry test with Rachel on a Friday and then got a call that weekend letting me know I'd be moving to Vancouver. That Monday I was on a plane to Vancouver for six months. So it all happened really, really fast. From the first time I went in and met with Rachel and everybody, it was literally two days later that I was on set working."
Though the part of Keira was originally written as a male (named Kyle), Rachel's assuming the role led to the entirety of the cast being assembled around her. What was that experience like for the gifted and engaging Maine native? "It was really exciting. I've never been the first person hired on any job ever before. I loved all of the characters from the very beginning and they just immediately started casting Liber8 and the rest of the police force, Inspector Dillon and Eric up in Vancouver. I met Victor for a chemistry read and that was the first time I'd ever had the opportunity to do a chemistry read with someone who'd be playing my partner, confidant and leading man. All the guys that came in and read were great, but Victor was far and away my first choice, which he knows now so I'm not talking out of turn at all. I knew who some of the Liber8 characters were but I didn't do any chemistry reads with them so I just sort of showed up on set the first day and met everybody and thought, "Wow, they've assembled such an impressive cast of characters that there's no way the show isn't going to work. It'll have to because everybody is so great." It's one of the more interesting groups of people I've ever seen cast all at once, so the fact that's it's part of a show that I'm on was great."
Considering Continuum's innovative take on time travel, one can't help but be curious as to what sparked showrunner Simon Barry's original concept? "The idea came out of a really pragmatic approach to trying to get my love of sci-fi into a pipeline of television production that was feasible. Time travel is a really great vehicle for that because you can have a very large mythology and big universe but still be set in the present day world which obviously is more production friendly. So it was a pragmatic decision at the beginning but then once the mythology and the characters started coming together it grew beyond that into a much more passionate process for me in terms of the many characters that the show presents and the bigger sociological and technological themes that we're trying to explore." Regarding Rachel's casting, Simon relayed, "We worked very diligently to find the right person for the lead [role] and once Rachel presented herself as an option we were thrilled and jumped at the chance to work with her and to build the rest of the cast around her."
Addressing the show's themes Rachel commented, "It's interesting because there are so many different themes. One of the main reasons I love the sci-fi genre is because we're allowed to get away with a lot more than you are on a mainstream political show or action show. Sci-fi's built in audience has this skill set for belief of things that we say might happen in the future. They don't judge us or say that we're being completely political about it. We're allowed to sort of get away with just making guestimates about what the future is to become and who the people are in 2012 versus who the people are in 2077. I think one theme is obviously that things are always changing, sometimes for better and sometimes for worse,… sometimes for much worse. We also have the theme of Family and that also is important for me because that's a big part of my character as well. That's something that doesn't change. My whole goal is to get home, to get back to where I'm from. I don't want Keira to be wallowed in the sadness of missing her family in every episode but she's gotta think about them at least once in every episode because that's her driving force. She may realize and understand that she's probably in 2012 for a purpose but that never for one second means that her number one goal isn't getting home." Victor jumped in to add, "We may bring something up as a thought-provoking possibility but we always give the audience the opportunity to have their own opinion because we give both sides of the coin. That's one of the things that I like most about the show, that I can sit back and discuss it afterwards with my friends and that there's a pro and a con to everything we bring up; that's what I really appreciate. It's one of the reasons that I'd personally tune in, because I like a show that makes you think. And, of course, because I come from an action background and grew up doing martial arts, I love the fact that this is a fast paced, action driven show that's relatable. It's not too far out there, even though it's a sci-fi show, all of this is within the realm of possibility. It's got aspects from so many different genres compiled together 'n mixed up that there's a little bit of something for everybody."
"I think there're a lot of ideas in the show that are relevant to today that we've repurposed through the prism of someone from the future." Barry elaborated, "We see the world through Keira's eyes and I think there's something interesting about someone who has a perspective that's different and who knows what's going to happen. Seeing our world through those eyes can sometimes be a fascinating way to look at our world anew. So that's one element that I think is definitely intriguing. I think audiences will also just like the straight up thriller aspect and character dynamics of the show. There's a real intimacy between the good guys and the bad guys on our show that's very special. And because the time travel component links everyone's fate there's this awareness that all of the characters share regardless of which side they're on. That really helps keep the show kind of connected within the varying factions."  "I completely agree with Victor and Simon," noted Nichols, "You get everything you want. There's that procedural element, there's the sci-fi element and it's a heavily character driven show. That sort of trifecta is very hard to come by. Plus the sci-fi genre is fascinating and wonderful because it really allows us to do so many different things. Whether it's a social commentary about corporations and governments or things like that, sci-fi lets us, as storytellers, get away with a lot. The built in sci-fi audience that always enjoys that storytelling freedom will love Continuum, but, audiences from other types of shows, I think, will also find something that they're looking for as well. That's hard to do but I think Continuum does it very well."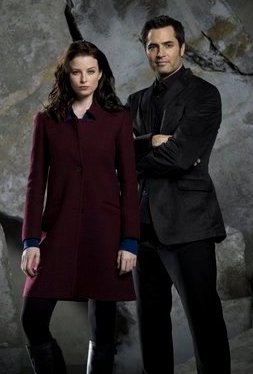 Continuum truly does excel at delivering outstanding action along with its cutting edge sci-fi elements. In light of Victor's martial arts history, I asked him to talk about the show's head stunt coordinator Kimani Ray Smith (Kyle XY, Evil Feed). "I know Kimani has in-depth conversations with everybody and really wants to figure out what is right for each particular scene, he's also the type that choreographs to your strengths. I prefer to do everything I can. Rachel and I pretty much do all of the stuff ourselves and then sometimes the doubles will come in and do a few things, but in the majority of fights I've had with Rachel it's just been her and I. When you see the actors on camera doing the action I think it adds a lot of depth to the characters and really draws you in more, rather than just seeing the back of somebody's head. He finds the things you can do well and he really, really choreographs around that and makes you look really good. Kimani is amazing and such a talented guy. His choreography is so interesting. We're really lucky to have him. He's incredible." Simon Barry concurred, "We stopped writing action and just started saying, "Kimani, do your stuff here." He always comes up with amazing, brilliant, and inventive fights that we could never have come up with. It's wonderful having him as such a key part of the team."
With Rachel's action heroine status firmly established in the industry, I wondered if she'd dish a bit about Monique Ganderton, her stunt double in Continuum, Conan the Barbarian, and upcoming film Raze? "I've been very fortunate ever since I was on Alias to work with some incredibly impressive stunt women. Shauna Duggins [a true star in the stunt world] doubled me in G.I. Joe: The Rise of Cobra and I've worked with [the inestimable] Zoë Bell both in Raze and also on Alias. I first met Monique, and this speaks to her character, when I was already in Bulgaria shooting Conan. Her boyfriend was one of the head stunt guys, but, production didn't really want to pay for Monique; they wanted to hire someone very inexpensively in Bulgaria. I hadn't even met her yet but she thought, "I would be a good double for Rachel," so she flew herself to Bulgaria to stay with her boyfriend hoping that, once there, they would hire her, which I was just blown away by. It was so impressive. And the fact is that she is such a great double for me. She worked her butt off and I'm sure was paid way less than she was used to, but her desire to do a great job and to do whatever it took to make me and the movie look good made me think, "I've gotta take this girl with me everywhere I go." Then I went to Vancouver (to start Continuum) and was speaking with Kimani and he coincidentally said, "I'm thinking of hiring this girl Mo Ganderton, I think she's gonna be great." I just went, "She's the best! Please bring her. Please, please, please!" She's actually a great double for me because I'm 5'9″ and a half and slender and most stunt doubles don't necessarily match my exact body type, but Monique is taller than I am and thinner than I am. So, I'm thrilled to have her double me and I'm hoping she's coming back for Season Two. When we were doing Raze, directed by my friend Josh Waller, it was Zoë Bell that brought Monique on. So, it's nice to know that whenever I need a double, even if I'm not the one putting her name in myself or if I don't have the opportunity to, there's inevitably someone who says, "Can we get Monique?," because she's awesome. It's also great for me because I like to carry guns and kick butt. I think there's something really strong and sexy about those female roles and there aren't necessarily a lot of those around. I consider myself very lucky to've been able to take on so many of those roles and to now have a fanbase that finds me completely believable and interesting in those powerful, action-oriented roles because they're so much fun to play and I would like to keep doing them for a long time to come."
Questioned regarding the show's central location, Vancouver, B.C., Simon responded, "The process of making the show was interesting because I had originally developed the idea for the American networks, but found an opportunity to do it in Canada and then to my surprise was offered the opportunity to keep it in Vancouver which is where I live. So it's been great. I already had a built-in relationship with a lot of actors in Vancouver, having lived here for a long time, and so it was a pleasure for me to wade into that pool of talent having a familiarity and understanding of where a lot of the great actors were hiding. Vancouver, because of the amount of work that comes here, has developed into a really strong talent base on many levels, not just with regards to actors but also directors, writers and producers. And so I knew that there was a much deeper reservoir than people appreciated and the fact that we could be set in Canada was just a bonus, really. I never really felt that the setting was ever integral to the show or the story, but it was a very nice bonus to be able to embrace Vancouver for Vancouver and showcase the city which is a character onto itself. I really couldn't be happier about all of these things coming together. And with Rachel and Victor anchoring the show the way they do they set the bar high. Anyone who shows up on Continuum know that they can't phone it in. These guys work harder than anyone else I've ever worked with and everyone who comes to work with us, by seeing their example, usually shows up with their best work."
Despite being a mere voice in Keira's ear, one of Continuum's most pivotal characters is Alec, played by Erik Knudsen (Scott Pilgrim vs. the World, Jericho). Akin to a field agent's Handler, or Operator from The Matrix, Alec acts as a bridging lifeline between Keira and the futuristic tech embedded in her body that she uses while pursuing Liber8. As critical as Alec is to Keira's performance in the field, Erik's talent and generosity has proven to be equally invaluable to Rachel's portrayal of Keira on-set. "I'm sure it won't come as a shock to you that working with an actor actually in the room with you in a scene is easier than with someone whose voice is just in your head." Nichols shared, "But as far as Erik is concerned, I've never met an actor who is more of a giver. I work everyday and Alec's voice usually works everyday, still, Erik Knudsen would come to set on the days that he was not shooting his scenes and would read all of his lines off-camera. That was really important for both of us because then we could hear the other person talking in those scenes even if we can't see them, instead of a script supervisor reading the lines. Erik's character and my character are very, very connected on an emotional level. He's the only person that's really an ally that knows my true story and can understand it – and he is my best friend. Carlos (Victor Webster) is another version of a best friend for Keira but he is someone that she's technically lying to everyday, and that's very, very difficult. That storyline progresses throughout the season and by the end of Season One there are a lot of questions about how I'm going to be able to navigate that very tenuous situation in the next season."
For those that need more information to be enticed into watching, here's a nutshell synopsis of the show's premise which is well laid out in tonight's series premiere… [Spoilers Follow]….
"What we learn in the pilot is that Liber8 are a terrorist organization in the future that've been condemned to death," reveals creator Simon Barry. "It's their execution that actually opens the show. Liber8 manages to, through a conspiracy, put together a prison break. But it's not the kind of prison break that goes through a wall or a tunnel. They use a kind of experimental technology that allows them to basically set off a bomb that creates a wormhole, a time travel portal (if you will) and so their escape is on the one hand a planned event, but they aren't supposed to end up in 2012. They were supposed to end up at the tipping point of their future revolution, so it's a bit of a mistake. But they realize very quickly that they can still begin changing history from the year 2012. Keira is accidentally thrown back with them and realizes that, as much as she wants to get back, her ability to get home is inextricably tied to stopping this group from executing their mission."
Production on Continuum's second season is just beginning but American sci-fi fans can now catch the ten episode Pilot season beginning tonight, only on Syfy @ 8/7c. Having already seen Season One's first two episodes, I'm happy to give this heady future-cop drama my very highest recommendation and find it an apropos spearhead for the return of Syfy's Powerful Mondays lineup (that also includes the season premieres of Being Human and Lost Girl). Plan now to spend your primetime with Syfy tonight, I can't imagine you'll be disappointed.