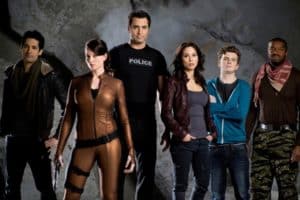 We have to give some credit to the SyFy channel. They really upped their popularity with the recent Sharknado, and they seem to be getting the network on the right road. They know their movies are silly and they embrace that, and in the same breath, they know some of their original shows like Defiance and Continuum, are actually pretty good, so they give them the publicity and budgets they deserve. And fans of the network's original shows need not worry about Continuum, because it was just renewed for a third season.
Continuum would be hard for me to explain for anyone who hasn't seen it, but the simple way to explain it is some rebels do some time traveling, and a cop who is sent to stop them mistakenly travels with them, from the year 2077 all the way back to our (almost) current year of 2012. And like I stated above, unlike some of the movies that SyFy passes off, Continuum has a decent budget and some great acting, which all goes even further in selling you this reality.
And much like any show on SyFy, people who were getting attached to the show were starting to get scared, because when it comes to the SyFy network, it is impossible to tell how long a shelf life anything will have. But, the news is good here, because Continuum will be coming back for a third season. So anyone who is caught up in the story need not worry that it will be stopped, right in the middle. Let's just hope there is some finite timeline to the story, though, so we don't get left with Lost style plot holes should the show ever come to an untimely end.
As of right now, though, it looks like we needn't worry about that.