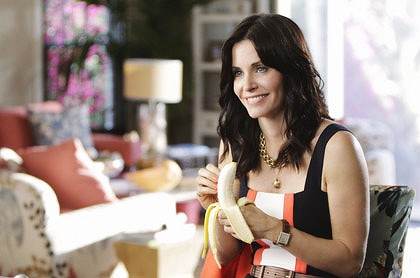 A lot of Cougar Town fans were upset when the show was left off ABC's midseason schedule. During the TCAs last week, the network gave hints that the show would return, but wouldn't commit to a date.
Now that date has been officially announced: Cougar Town will have its third season premiere on Tuesday, February 14 at 8:30 p.m. on ABC.
How did a spot magically open up? Well, two weeks ago a new midseason comedy premiered called Work It. It premiered to disappointing ratings and critical scorn (seriously, scorn). ABC decided to yank the show from its schedule after only two episodes. This has now freed up a spot on the ABC Wednesday night comedy block for Cougar Town. It looks like encores of Last Man Standing will air in the 8:30 p.m. spot until Cougar Town premieres in mid-February.
Here are the details of the season 3 premiere: "Jules is miffed when Grayson (who has an ulterior motive) calls her 'predictable'; Ellie frets that little Stan is turning into a 'devil child,'or even worse, could grow up to be like Laurie; and Travis likes his new off campus housing, until Bobby tries to convince him to take dog Travis in."