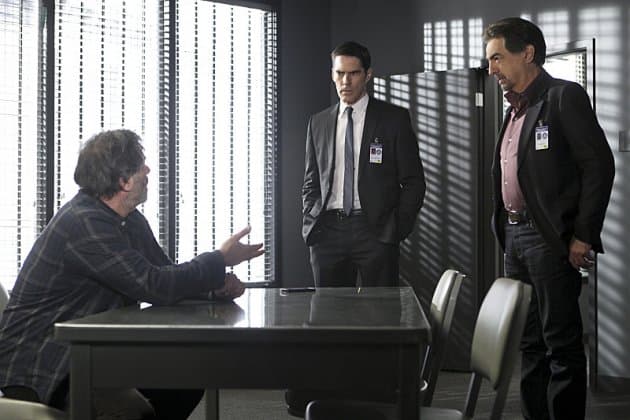 The case on tonight's episode of Criminal Minds is a big mystery as the team try and figure out whether a father is behind the disappearance of his daughters. This episode also marks another important cast milestone as Thomas Gibson follows in Matthew Gray Gubler's footsteps and steps behind the camera.
Bruce Morrison (Ken Olin) is a writer and on the anniversary of his wife's disappearance, his two teenage daughters also vanish. Morrison is suspect number one thanks to a lapse in time between when they were last seen and Morrison reporting that they had gone to the police. This case is complicated thanks to substance abuse and the local law enforcements certainty that Morrison did it.
This episode takes a break from the Reid heartache after his tragic loss, but we will get a personal story from J.J. (A.J. Cook) that will prove to be insightful. Originally this episode was meant to be part of a big J.J. undercover story, which was benched thanks to the Replicator plot becoming a season long arc.
As for the episode director, we will still get to see a regular amount of Hotch and even though this is Gibson's first time behind the Criminal Minds camera, he has previously directed when he was on Dharma and Greg. Gibson spoke to TV Guide about his experience directing this episode and the challenges it presented saying "Single-camera is more relentless because it's eight 14-hour days no matter how you slice it." Gibson also commented on what it made him realize in terms of those who are part of the crew "When you direct, you're there all the time and you really appreciate just how much everybody busts their ass to make this work, and they're amazing. I always respected our crew and all the hard work they do, but this deepened it."
Don't expect this to be a one-off as Gibson is already itching to get behind the camera again as Gibson would "love to do it again. … I waited a long time for this! It's just really exciting to learn visual storytelling. It was so much fun and I'm so proud of it."
Watch a promo for tonight's episode "All That Remains" below.
http://www.youtube.com/watch?v=X4IdfBsdT44&version=3&hl=en_US