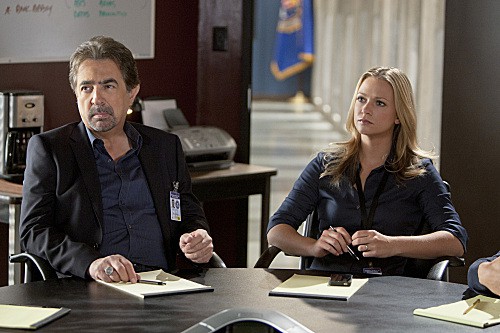 The BAU team face a difficult case tonight as they search for a missing school bus full of children on tonight's episode of Criminal Minds. Plus we have spoilers that reveal what we can look forward to in some forthcoming episodes, including the season long unsub and Reid's (Matthew Gray Gubler) mysterious friend.
Why would someone take a school bus full of children? That is the question that the team will have to answer tonight as they search the Washington DC area. It looks like a real life computer game has been constructed with the teens serving as the characters in the game. What makes the game look deadly (besides the guns) in the promo below is the Battle Royale style collars that they are wearing that prevent the players from escaping without being killed. It looks like the kind of situation that could turn into a massacre if the team aren't successful in finding the unsubs quickly.
So far this season we have seen a couple of moments with our season long villain, but little is known about him beyond his fondness for taking photos of the BAU team and replicating a past case. Executive producer Erica Messer spoke to TV Guide about this villain revealing that episode 16 is when the killer will be unveiled and "He will likely be our ultimate case later in the year, if not the finale." There is a certain amount of flexibility with this case and this has resulted in a planned J.J. (A.J. Cook) undercover plot getting pushed from this season to next year, due to the overcrowding of storylines.
One story that is continuing is Reid's mystery friend on the phone who we first 'met' a few weeks ago. By pure coincidence, Matthew Gray Gubler is directing episode 10 which also happens to be when we will fully see the woman on the end of the phone. This will be Gubler's fourth time directing and fellow Criminal Minds co-star Thomas Gibson will also be stepping behind the camera later this season for episode 15. Messer is rather secretive about this Reid storyline but did say that "What we all liked about it was that it didn't look like anything we'd seen and we felt like only Reid would be able to have this kind of relationship, where you haven't met the person and that for the first time, you're excited in that emotional way." Are you looking forward to this story?
Watch a promo from tonight's episode "The Wheels on the Bus" below.
http://www.youtube.com/watch?v=ONG1pwgB8Y0&version=3&hl=en_GB