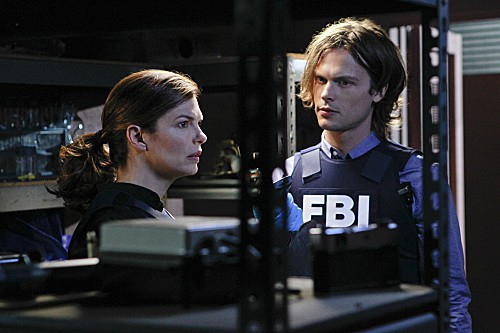 It's been business as usual for the BAU team on Criminal Minds and so far we have caught a glimpse of some of their personal lives this year and tonight we will find out a little more about Reid (Matthew Gray Gubler) and a new relationship that has developed. Spoilers ahead.
The team head to New Mexico for a rather grizzly case after a legless body is discovered in the desert and a second victim turns up in the hospital. As with the first crime, this person in the hospital is an unwilling amputee and it would appear that someone is trying to 'play God.' The episode is called "God Complex" and the unsub is performing these procedures with a mission in mind; is it a doctor who believes he needs to do God's work?
Now to Reid's mysterious phone call that has the team (and audience I should imagine) very intrigued. As you can see from the sneak peek it's all rather cryptic and at first it looks like he is calling his doctor as they discuss his headaches (which are now gone) and what vitamins Reid is taking. The conversation is a lot more intimate than simple medical details and whoever this woman is she has had a steady phone relationship with Reid; they talk on Sundays and have done so for six months. They have never met face-to-face and neither knows what the other looks like, though Reid points out that she could easily find out thanks to the internet. The only image she has seen is of his brain as Reid sent an MRI to her and this prompted her desire to get to know him; is this creepy or cute? Also why is Reid calling on a payphone?
Reid is a character who beyond his relationship with his mother (can they get Jane Lynch back for an episode please?) we haven't explored in great personal detail so I'm looking forward to finding out more. Gubler spoke to TV Line about tonight's story and is rather cryptic about this new relationship "It's very intriguing. I don't know how to describe it. It's a uniquely done story of love, I might say. Or maybe not."
Last week we found out that Beth (Bellamy Young) has got a new job in New York (Young is now on Scandal) but instead of finishing the relationship Hotch (Thomas Gibson) insists that they can make it work. Are you happy that Hotch and Beth are going to try and make the long distance relationship work?
Watch a clip from tonight's episode "God Complex" below.