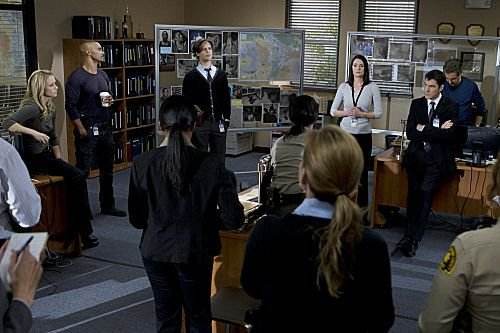 The BAU team head to California once again this week on Criminal Minds as they are called in on a case that involves deadly and brutal home invasions in California's Inland Empire. In the last episode we saw JJ (AJ Cook) face the unsub in her most physical confrontation yet and we learnt that Morgan (Shemar Moore) has been training her in hand-to-hand combat; new skills that she put to the test successfully.
The home invasions that they are investigating in "A Thin Line" appear to have a more insidious motive than simple burglary, even if on the surface burglary seems to be reason for the attacks. The first two homes that have been targeted have had insufficient alarm systems and a burglary has also taken place. The entire family has also been killed in each home invasion, but so has one of the assailants in each case showing that the families were armed and fought back. Or is this just how the perpetrators of the crime wanted it to look like? What could be the actual motive of these heinous attacks?
One Tree Hill stalwart Paul Johansson is guest starring tonight as mayoral candidate Clark Preston; does the election for mayor have anything to do with why these attacks are taking place.
Last week Paget Brewster announced that she will be leaving Criminal Minds at the end of this season; are you already thinking about what they will do for Prentiss' exit story? Is this news more or less devastating than when Brewster originally left the show?
Watch a promo for tonight's episode "A Thin Line" below.