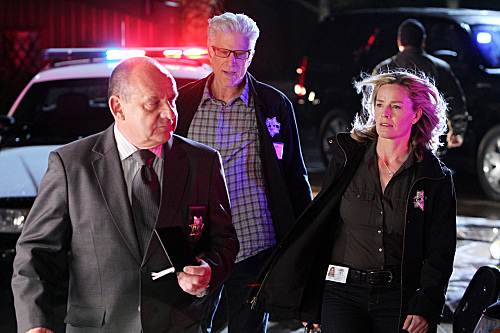 CBS's Wednesday night line-up is all new tonight, which means a new episode of CSI: Crime Scene Investigation.
In tonight's episode of CSI, a young child is abducted. The team has to race against the clock to try and find the kid before time runs out. As Julie warns: "You know the rule, if we don't find this kind in three hours, he's dead". Unfortunately, that's when a big problem happens. Just as the fingerprint analysis is being run through the computer, the entire city is hit with a huge blackout. Actually, half the state has lost its power.
What's the CSI team to do? The Captain warns that the power might not be restored for a while, so D.B. vows that "if the lights don't come on, we'll find the kid in the dark". Without all of their fancy electronic tools, the team turns to old school investigative techniques to find the missing child.
Watch a sneak peek below for tonight's all new episode of CSI, airing at 10:00 p.m. EST on CBS.