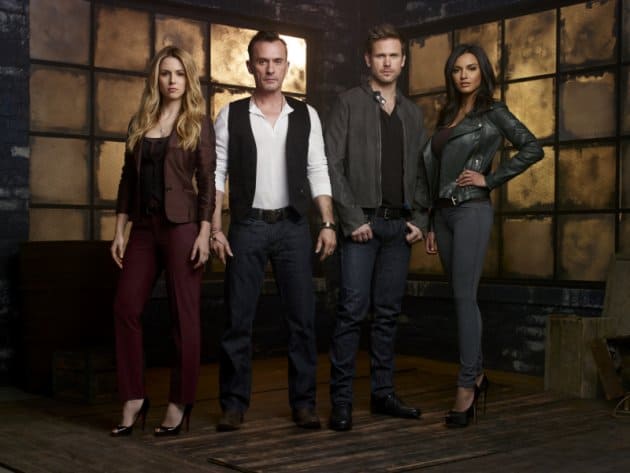 "It's not just a TV show.  It goes beyond that.  Way beyond that."  Those words are ominously said by a character in the series premiere of Cult, The CW's new drama/horror/meta show that will leave audiences scrambling to decode the clues inside the show within a show.
Cult begins with the disappearance of a fan of the TV show "Cult" which, coincidentally enough, airs on The CW.  When that happens, it's up to an investigative journalist to figure out what the show had to do with his brother's disappearance and whether the show's fans are bringing the teachings of cult leader Billy Grimm (the star of the show) into the real world.  During a visit to the Vancouver set of Cult in the fall*, we had the opportunity to speak with the four main stars of Cult.  Here's everything you need to know about this mysterious new series.
Jeff Sefton (Real World).  Matt Davis plays Jeff, the investigative journalist who is initially disbelieving when his brother Nate comes to him to say that he thinks he's being followed after interacting with fans of the "Cult" show.  Jeff brushes off his former junkie brother's concerns, but when Nate disappears and leaves behind nothing but a pool of blood, Jeff immediately realizes that this show could be connected to his brother's disappearance.  As Jeff starts to do research on the show, and befriends a researcher on the show named Skye, he realizes that "Cult's" fans are not the type of people you want to mess with.  Matt explained that Jeff's search for Nate is essentially bringing him deeper into the show and it's mysteries: "[Jeff's] trying to figure out what the tie in is, and the more he discovers, the deeper he goes….[it's like] a rabbit hole of bizarre deception and betrayals all along the way, that he and Skye, Jessica Lucas, are constantly being brought into deeper and deeper."  But despite the improbability of a show's fans actually killing based on a TV series, Jeff becomes a true believer quite quickly: "I think right away he's skeptical, but then so much happens so quickly that it's impossible for him to remain skeptical, so he quickly gives in to the notion that this is true and that he's one of the few people who sees it, and then has to warn the others."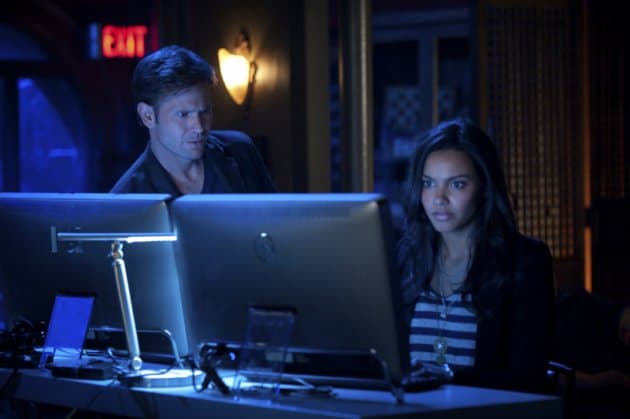 Skye Yarrow (Real World).  Jessica Lucas plays the young "Cult" researcher Skye, who thinks that there's something suspicious about the show's fans. When she overhears Jeff on set asking about the fans, she immediately volunteers to help him and shows him what she's uncovered about the online community.  Jessica explained that "Skye, because she works on the show, and has been researching this whole phenomenon actually a lot longer than Jeff, [and] she has a lot more information than him. She's not very skeptical. She's sort of the driving force of 'this is really crazy, what's going on?'"  Determined to find out everything she can about the series, Skye isn't above using personal relationships to solve this mystery.  "Skye has somebody at work that she is dating slash getting information from. It's been an interesting thing to play, because it's trying to build a personal relationship when Skye isn't a very personable person. I think she wants to have these relationships with people, but she's in this horrible position of not being able to trust anybody."
Billy Grimm (TV Show)/Roger Reeves (Real World).  Robert Knepper plays a dual role on Cult, that of cult leader Billy in the show within a show and actor Roger Reeves, who portrays Billy in the real world.  Much in the vein of his previous monstrous characters like T-Bag from Prison Break, Robert will alternately creep you out as Billy and draw you in with his charisma.  It's this duality that Robert says makes Billy such a memorable character: "I think you have to find humanity [in Billy] because you have to understand, as a person watching the show, why so many people follow him.  Otherwise they're just idiots, they're just lemmings falling off the edge of a cliff.  People like that have to be [so] charismatic that normal people would just go 'wow, I could really use that in my life right now.  I could follow that guy'.  It's not so much what Billy knows and thinks he can take from people, it's what he thinks he can give to people.  He has a huge heart and he can help out a lot of people and that's kind of how I approach it."  Meanwhile, in the real world, we'll learn how Roger is affected by this iconic character that he plays on "Cult".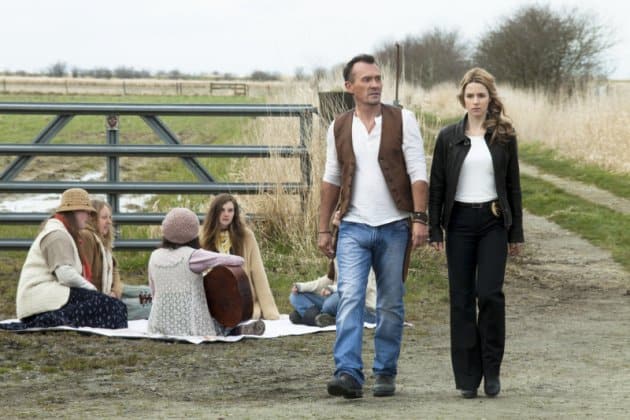 Kelly Collins (TV Show)/Marti Gerritsen (Real World).  Alona Tal also tackles a dual role on the series: Kelly in the TV show, who used to be a member of Billy's cult and then went on to be a police detective who is trying to solve the disappearance of her sister, and Marti, the actress who plays Kelly in the real world.  Like with Roger, we'll start to see, with Marti, how "the craziness of the outside world does touch on her and how these mirrored images between the inside show/outside show."  In the TV show, we'll be exploring more about the relationship between Billy and Kelly, as well as "the level of involvement that led to [Kelly] leaving [the cult] and how deep was her relationship with Billy.  Because I think to have that kind of obsession you had to be on the other side of the spectrum.  To hate someone [ie. Billy] that much, you really have to love them that much."
Steven Rae (Real World).  This enigmatic figure is another driving force of Cult.  A producer warns a studio executive that when you buy a Steven Rae show, "you're buying one man's vision".  In other words, Steven has full control of the show, but he's extremely secretive, difficult to get in contract wit,h and rarely ventures out into public.  Does he know what "Cult's" fans are doing in the real world?  We don't yet know, but Matt did stress that this man would "become a central enigma, next to finding [Jeff's] brother."
Don't miss the premiere of Cult tonight at 9:00 p.m. ET/PT on The CW.
As a special treat for Cult fans, Machinima's ETC will be hosting a live interactive recap after each episode.  Beginning tonight, at 10:00 p.m. ET/PT, fans can participate via Machinima's ETC YouTube Channel www.youtube.com/MachinimaETC and on CWTV.com.  Matt Davis will be participating in tonight's live recap, while subsequent episodes will feature cast members, show producers and other related Cult experts.  In addition, Machinima's ETC After Party: The Cult of Cult will feature a live Twitter feed running throughout the show and real-time answers from the show's hosts and guests to questions from the online audience. Prizes will be awarded for the best submission each week. Fans can submit questions via Twitter by tweeting to @Machinima_ETC and using the following hashtag: #CULT.  For more information on this interactive aspect of the series, read here.
*Travel and accomodations provided by Warner Bros. Television
http://youtu.be/ThP75KPradI
http://youtu.be/q-oWJQoeAQ4