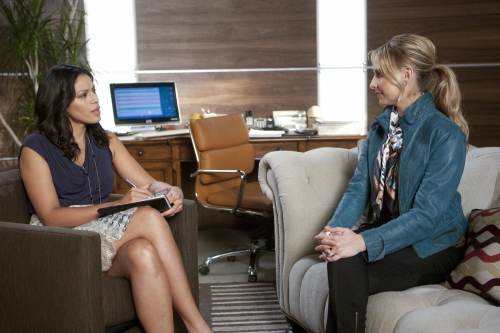 How do you fake a pregnancy? This week's episode of Ringer gave us our answer. After fainting in the previous episode, Andrew wanted Bridget to get an ultrasound to make sure their baby was alright. Of course, Bridget isn't actually pregnant, so when the technician didn't find an embryo, Bridget claimed a miscarriage. Andrew was very upset by the news, but Bridget saw it as an opportunity to keep their marriage on track, especially since she doesn't have to fake a baby any longer.
Malcolm arrived in New York City, still addicted to the drugs he was given while he was captured. He reached out to Bridget, who told him she wanted to remain in the city and also refused to fund his "weaning off the drugs" plan. Eventually he came around and asked Bridget to help him.
Juliet was upset when her teacher transferred her out of his class in order to prevent a crush, while Siobhan lost her meal ticket in Paris when Tyler met Bridget and thought that she was sleeping with his new boss' wife.
In the November 15 episode of Ringer, Bridget realizes that she's developing feelings for Andrew. Henry grows closer to Andrew's business partner, Olivia, while Malcolm is suspicious of Bridget's new sponsor, Charlie. Bridget also makes an appointment with Siobhan's therapist to try and gain insight into her sister.
Watch a trailer for the November 15 episode of Ringer below.