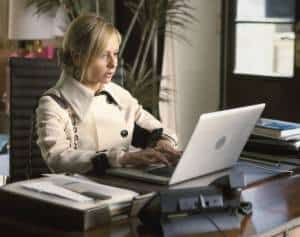 It's been nearly two months since we saw a new episode of Ringer. The show entered its midseason hiatus with a few big developments: the (final) death of Gemma, the death of the duplicitous Charlie, Juliet's apparently "rape" by her teacher (although we don't know exactly what happened yet) and, of course, the return of Siobhan to New York City.
Ringer finally returns on January 31 and the "dead" twin is not putting any of her scheming on hold just because she's getting progressively more pregnant and back in New York. In a sneak peek for the episode, we see her apologizing to jilted boyfriend Tyler. But she's even using her apology to get something from Tyler: a copy of Martin/Charles' year-end statements. Is she hoping to expose some shady dealings by Andrew as Tyler hypothesizes, or is she trying to get her hands on some cash? Whatever the reason, it looks like Siobhan might be heading back to her old penthouse to dig around for some information.
Meanwhile, Bridget will offer to host a fundraiser at her penthouse for one of Siobhan's friends and she'll learn that this friend definitely knew some of Siobhan's secrets. Malcolm accepts a job at Martin/Charles so he can keep an eye on Andrew and Siobhan will be surprised to see how well Bridget's settled into her old life.
Watch the sneak peek for the January 31 episode of Ringer below and use the arrows above to browse through some photos for the episode. You can also watch a trailer for the return here.