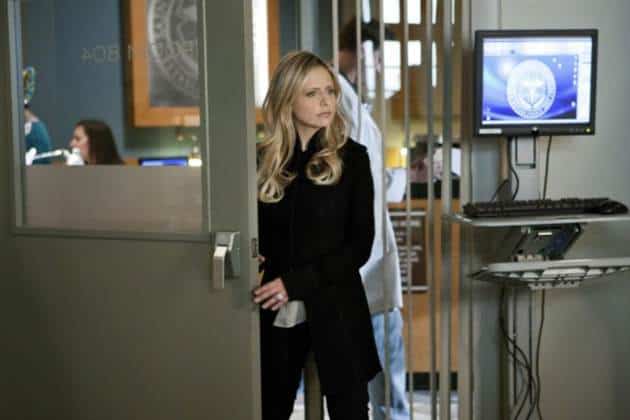 If you missed this week's new episode of Ringer, you'll definitely want to check out our recap, because basically every secret on the show was revealed. Siobhan told Henry who had wanted her dead and how she had used Bridget to set up the whole "fake death" scenario, thinking her sister would take her place. Bridget is a bit slower on the uptake, but she does realize what's happening at Martin/Charles and spent a lot of the episode trying to find Malcolm. At this point, Malcolm's disappearance is a big question. Did Andrew actually kill him or hurt him? We don't yet know.
What we do know is that Andrew confronted Bridget at the end of this week's Ringer and, instead of killing her as we had thought he would, he told her he wanted to work things out with her. Then when someone mysteriously fired at Bridget in the yet-to-be-built loft, Andrew jumped in front of the bullet.
Now Andrew's life hangs in the balance in the March 20 episode. While Bridget and Juliet gather in the hospital to learn Andrew's fate, Agent Machado wants to find the shooter. Henry believes that Siobhan sent the hitman to the loft and comes to the hospital to be with the Martins, but Bridget is convinced that Olivia wanted her dead. At some point it looks like Andrew wakes up, because he apparently admits that he asked Malcolm to leave town. Do you think that's true or is he covering up something worse? Juliet also goes missing. We're guessing it may have something to do with her mother.
Watch a preview and sneak peek below for the March 20 episode of Ringer. All new episodes of the show will continue to air without repeats until the season is finished.