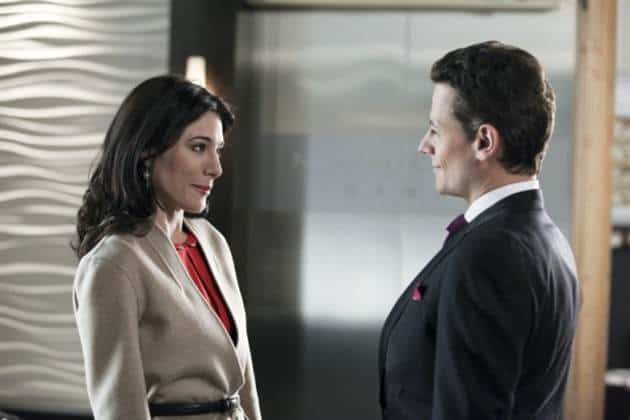 This week's Ringer may have shocked a few fans, because Andrew went from mild-mannered husband to potential murderer. After learning that Martin Charles was involved in some shady business dealings last week, Bridget finally confronted Andrew about it, thinking that Olivia was behind it. But Andrew dropped a bombshell: the Ponzi scheme was his idea. As he explained to Bridget this week, the firm started losing money, so they used new investors to pay off old investors and when the economy suffered a few years ago, they kept going with it. Andrew insists that he's figured out a way to have computers outsmart the market, so he's trying to make enough money to dig the firm out of this mess.
Naturally, Bridget was rather surprised that her (sister's) husband was capable of this kind of financial fraud. But she was adamant when she told Malcolm that Andrew would never actually hurt her. Then Ringer went one step further: Olivia and Andrew learned that Tyler had been the one to expose their scheme to the SEC. They invited him to New York to confront him. While Bridget was also trying to track down Tyler, Olivia approached him outside of his hotel. The two went for a little drive and Olivia fired Tyler, then told him that no matter what the SEC promised in terms of immunity, Tyler would go down with them if their scheme was exposed. At her demand, he handed over papers with information, but decided to keep Bridget's flash drive (with more incriminating evidence) to himself.
That wasn't the end of Tyler's troubles. He later headed back to his hotel and told Bridget that he was obviously worried about what could happen to him after getting involved in this mess. She told him not to let the flash drive out of his sight. Moments later, he came back into the main room of his hotel suite, was shocked to see someone in his room, and was killed. We don't technically know who killed him, because we didn't learn about his death until Bridget went to his room and found him dead. But we did see Olivia driving off in her car, the flash drive in her hand.
Olivia had also warned Andrew that Malcolm had gone digging through their computers and, at the end of Ringer, Andrew decided to pay Malcolm a little visit. Looking very menacing, Andrew was standing on the other side of the door. In next week's episode we know that Malcolm goes missing.
Did Olivia really kill Tyler? Will Andrew actually hurt or kill Malcolm? To be quite honest, I think it's a fake-out. Remember when we thought Gemma was dead and then it turns out she was really kidnapped? The same could be true here. Yes, Tyler is dead, but Olivia could have stumbled upon his body and retrieved the flash drive and someone else could have killed him. Or maybe she did it. We may have to wait until next week to find out.
In any event, the trailer for the march 13 episode of Ringer is very ominous. Will Andrew actually hurt Bridget? Watch the preview below and judge for yourself.