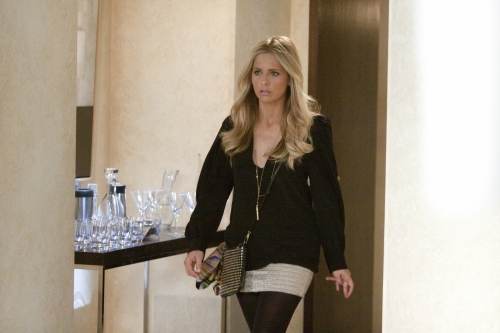 In an effort to keep you up to date on all facts about Ringer's first season, we've put together a handy collection of episodic spoilers for you, as well as links to photos, sneak peeks and trailers. This is a one-stop shop for all of your Ringer needs. As episodes air and new spoilers become available, this page will be updated, so make sure to bookmark it and keep checking back.
Episode 1.05 "A Whole New Kind of" (October 11): Henry is extremely depressed when he's given bad news about his writing career and Andrew has to deal with his continuously difficult relationship with his daughter, Juliet. Gemma asks Bridget for a favor, but going through with it could cost Bridget everything. Meanwhile, she meets a potential new sponsor named Charlie in New York at a local Narcotics Anonymous meeting and Malcolm's sobriety is threatened.
Episode 1.06 "The Poor Kids Do it Everyday" (October 18): Bridget grows concerned that something has happened between Gemma and Henry when she's unable to get in touch with her friend. Juliet gets some help from guest star Jason Dohring, who will be playing her teacher Mr. Carpenter. When Juliet starts a new school and gets attacked by the school bully, Mr. Carpenter steps in to help her. Agent Machado will be looking into Malcolm's disappearance while Bridget asks Charlie (guest star Billy Miller) to help her with a favor that might come back to haunt her.