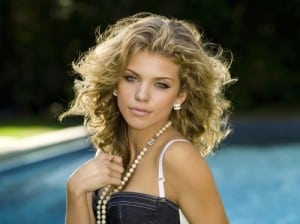 You all may know AnnaLynne McCord best for her stint as Naomi on 90210, but it seems the actress is doing some relocating. Don't let the title of the article throw you off, though. She is only moving to the Dallas TV show. Seems the dark haired stunner was just cast as Heather a recurring character for season three. Little is known about Heather so far except that she is a tomboy who works on the ranch and is doing just fine for herself in the "male driven world". Seems like she might just be playing the opposite of what she has been playing on 90210. Less a temptress, and more a worker bee, perhaps?
AnnaLynne was known best for playing Naomi Clark on the recent 90210 run, but she seems content on trading in her high-end heels for some work boots. I am a big fan of the actress ever since seeing her in the amazing Excision, a film where she was all-but-unrecognizable. That film showed a very dark side to her demeanor, and she pulled it off remarkably well. So here's hoping that Dallas gives AnnaLynne McCord more of a chance to show off her genuinely impressive acting ability.
The rumor is that Heather will become the love interest for Jesse Metcalf on the show, but that is all we know so far. If we know anything about Dallas, it is safe to say there are going to be some real twists and turns.
We will see when season three of Dallas drops next year. Read the full story over at TV Line.