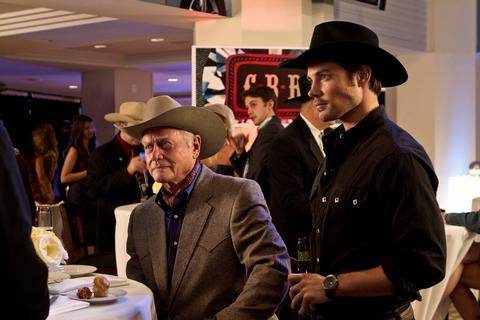 Dallas has struck oil at TNT. The cable channel just announced they have approved a second season of the Dallas revival, putting in an order for 15 episodes to begin airing in 2013. The Dallas revival was a quick hit for TNT so it's not surprising at all to see a renewal come this early. The June 13th premiere of Dallas drew 7.8 Million viewers, and the show has managed to average nearly 7 Million viewers a week. Dallas ranks as the number one new show on cable, and is TNT's third straight win in that category including former champs Rizzoli & Isles in 2010, and Falling Skies in 2011. Furthermore, Dallas is posting high numbers in the 18-49 year old adult demos considered key to a shows commercial success.
"Dallas has been a success for us on every level: pitch-perfect writing, smart directing and buzz-worthy performances by a new generation of stars and their iconic counterparts," said Michael Wright, president, head of programming for TNT, TBS and Turner Classic Movies (TCM). "With Dallas' top-flight ratings, robust growth through time-shifted viewing and the extensive online buzz, it's clear the Ewings of Southfork have once again captured the imagination of viewers.'
Currently airing Wednesdays at 9 p.m. (ET/PT), TNT's Dallas marks the return to Southfork of J.R., Bobby and Sue Ellen Ewing, who bring with them their arsenal of secrets, schemes and betrayals. This time, they're joined by the next generation of Ewings, who take ambition and deception to a new level. The series stars Josh Henderson as John Ross, the son of J.R. and Sue Ellen Ewing; Jesse Metcalfe as Christopher, Bobby's adopted son; Jordana Brewster as Elena Ramos, John Ross'girlfriend; Julie Gonzalo as Rebecca Sutter, Christopher's wife; and Brenda Strong as Bobby's wife, Ann. They are joined by the original series'iconic stars: Patrick Duffy as Bobby Ewing, Linda Gray as Sue Ellen Ewing and Larry Hagman as J.R. Ewing.