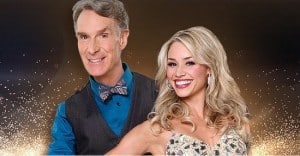 Okay, confession time. Until I saw this article today on Entertainment Weekly, I had no idea Bill Nye the Science Guy was going to be on Dancing With the Stars this season. Listen, another confession. I am not the biggest fan of dancing shows. Not to detract from them at all, I know many people enjoy them, I am just more of a comedy show kind of guy. But I won't lie. I FULLY intend to watch this season of DWTS, strictly because I want to see Bill Nye cut a rug. I cannot express in words how awesome this is going to be.
What you need to understand is people in their late 20′s and early 30′s are going to be awed by this. We grew up watching Bill Nye teach us everything we now know about science. We look at him with all the respect you would normally have for a professor or mentor who seriously helped form your intellect. So do you even know how amazing it is going to be to see him cutting a rug?
As he has proven over the years, Bill Nye is bright, driven, and seems to have a lot of fun just being Bill Nye, so it should be a pleasure for everyone to see what he brings to the dance floor when this season of Dancing With The Stars begins.
Seriously, we hope Bill Nye wins this season. That would pretty much be the coolest thing ever.