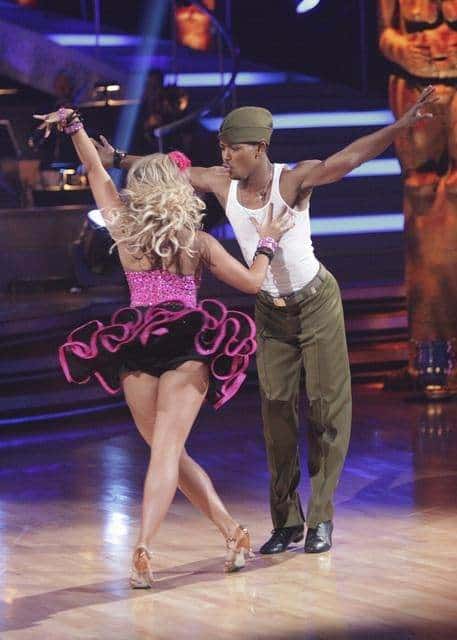 Dancing with the Stars kicked off Week 7 with the Ballroom Greats theme, and it wasn't so great. So what in the heck went on here tonight? The judges were at their most horrible, and some of the best dancers either danced poorly or were scored poorly. And that means the ballroom greats, Shirley Ballas and Luca Baricchi, who coached them, were a kind of a waste?The only good thing was that none of the dancers suffered a mishap. Instead, guest judge Donnie Burns had a scoring mishap!
It started off well enough, with Donnie telling us nobody does show business like us Americans, giving us that feel good feeling. Then things started to head downhill. Both of the team cha cha dances were impressive, yet each team scored a miserable 30 out of 40. The challenge for the teams was not only the footwork, but the formation, patterns, and remaining in sync. The judges couldn't make up their minds with Team Chelsea — Bruno accused them of being a bit out of sync, while Carrie Ann said the opposite. Team Hines was accused of having bad spacing by Donnie, but overall received the best critiques and yet still scored a 30?
So then came the individual dances, and the judges were really all over the board. And maybe that's because performances we expected to be good were not so great, or the judges were just kooky from Donnie's presence. Below are the rankings for the individual dances, with the name of their coach. Just add the 30 everyone received for the team dances to get their full score.
Ralph & Karina (Luca): 36 for their quickstep. Ralph's first 10 of the season, courtesy of Donnie, and it was so well deserved. Bruno had the best comment of the night, saying their dance was 'how to grab a quick one at a speakeasy.'Definitely Safe
Hines & Kym (Luca): 36 for their tango. Len liked it overall but thought it too dainty. Carrie and Donnie found fault with mechanics. Bruno got himself over excited. Hines now ties with Ralph at the top of leaderboard. Definitely Safe
Chelsea & Mark (Shirley): 34 for their paso doble. Once again Len faulted them for his confusion by the mix of the old and the new, while Donnie thought there was too much aggression and not enough refinement. Visibly annoyed, Mark felt compelled once again to defend himself by reciting all the required elements in their dance. Not even Pia Toscano's presence in the audience could assuage him. Definitely Safe
Kendra & Louis (Luca): 31 for their tango. Bruno felt Kendra hung on Louis too much. The other three thought she did well with demanding choreography. Even with the mostly positive critiques, her score was awful. But why isn't anyone dinging her for her clunky legs? In Jeopardy
Kirstie & Maks (Shirley): 30 for their jive. These guys are the most fun, but were the biggest disappointment of the night. Kirstie couldn't get her legs to do any kicks and Maks'energy highlighted this even more. The judges all noted her uneventful jive, but credited her for acting the part. Kirstie herself admitted she was so caught up in the acting she forgot to move her feet. The judges commentary didn't match the scores, and since this isn't 'Acting with the Stars', Kirstie is In Jeopardy.
Romeo & Chelsie (Shirley) 29 (or 30?): for their samba. Romeo threatened to throw a samba party in his shoes or his pants, but as Led said, he talked the talk but didn't dance the dance. Carrie Ann and Bruno said he had the wrong bounce, and Donnie didn't like his footwork. And then the mishap: Donnie held up the 8 paddle, but really meant to give him a 7. Brooke Burke lent more confusion, first clarifying it was a 7, then said they had a 30. I think the 7 stands, and they are In Jeopardy.
It's going to be a tough, close call on the Results Show among the bottom 3 by scores, and every vote is going to count. Performances by Nicki Minaj, Maks'brother Val Chmerkovskiy, Wayne Brady and the Macy's Stars of Dance segment will hopefully alleviate what's going to be a rough night. Dancing with the Stars Results Show airs May 3 at 8 p.m. on ABC.