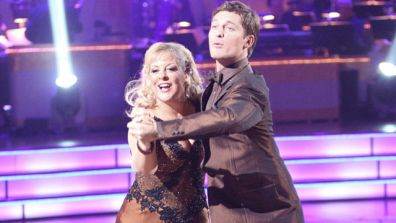 It was a battle for the Dancing with the Stars semifinals Monday night and only 4 couples could survive: JR Martinez, Ricki Lake, Hope Solo and Rob Kardashian are the official Season 13 semifinalists. As was heavily predicted, especially by Len Goodman's Cinderella comment that it was midnight and time for Nancy Grace to go home, go home she will. Nancy deserves props for hanging in there so long, especially because she is donating her DWTS earnings to the National Center for Missing and Exploited Children.
In her typical insensitivity of people's feelings, co-host Brooke Burke asks of Nancy 'How surprised are you to make it this far?'Maybe she made it far because her Irish pro partner Tristan Macmanus is known as the 'lucky charm'behind the scenes. This might spell the end of Nancy's dancing career, but not for Tristan. Plucked from the Troupe to a regular this season, he proved himself to be a formidable pro, able to handle the toughness of Nancy and show his discipline and talent. Me thinks he's earned his place as a regular DWTS pro in seasons to come.
Highlights of tonight included a kick ass all women on deck performance by the female pros to Jordin Sparks 'I am Woman'. Also, an electrifying tribute to Michael Jackson's hits with dance performances ala cirque du soleil in the Macy's Stars of Dance segment. In a candid backstage moment from the previous night, we also heard a tired Ricki admitting to Derek 'I don't have it, I don't have what it takes, I just don't.'Well, she does, because now she's in the semifinals.Perhaps the forgettable moment was a Dance Center segment where we saw a bit too much of Len Goodman's bod than we ever wanted to. See the video below if you dare.
So Rob and Nancy weren't 'necessarily the bottom two'and I think Hope Solo might have been closer to the bottom than Rob. The semifinals will show us the real differential between the two, because let's face it, they both won't make it to the finals. Next week is the Dancing with the Stars Semifinals show, airing Monday, November 14 at 8 p.m. (ET) on ABC.