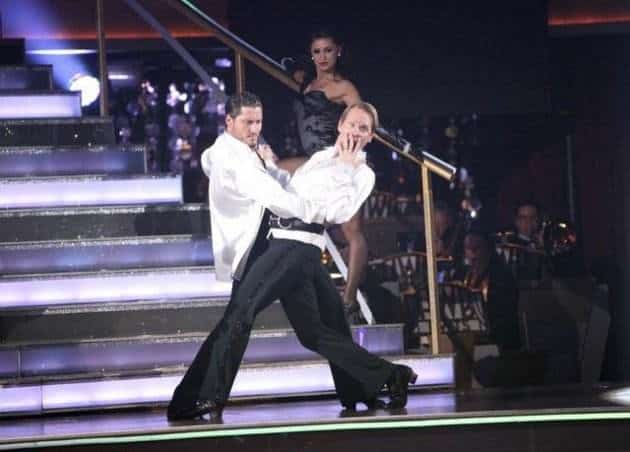 On the Dancing with the Stars Finale Results Show, Carson Kressley and partner Anna Trebunksaya, along with pro backup, performed a dance number to Madonna's 'Vogue.'This, as Carson predicted, was likely to be the watercooler performance of the show. Madonna fans know that the iconic hit "Vogue" is a tribute to drag queens, and Carson was thrilled to dance to it on live TV for 20 million viewers. Carson admitted he'd enjoyed dancing to the song since age 11, so this was a dream come true. Add to that performing with a Chmerkovskiy, something Carson says he can now cross off his bucket list. No, not Maks, but Maks' equally talented brother Val.
See the video of the whole performance below, and watch as he incorporates some moves from his week 1 cha cha, gets dipped by the male pros and spanks himself. This is great stuff! When host Tom Bergeron questioned Carson on dancing with Val and not Maks, Carson said 'there's always the after party.'That will have to happen at some other time though, as the 3 finalists, J.R. Martinez, Ricki Lake and Rob Kardashian jetted off on a red eye to New York with Carson in tow soon after the show wrapped. See their Good Morning America appearance here.
Although he was eliminated in Week 5, Carson was one of the most popular and loveable contestants this season. Fans are even calling for him to remain part of Dancing with the Stars in some capacity. Some even suggested he replace hostess Brooke Burke Charvet! Good Morning America has also loved having him appear each week to discuss the show. Hosts George Stephanopolous and Robin Roberts even teased that he could be offered a permanent gig on their show. Could we see Carson as a regular contributor of Good Morning America or even Dancing with the Stars? There's always hope!