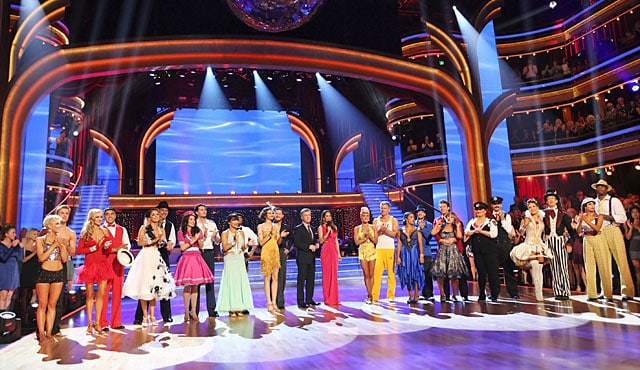 Last week served as a mere introduction to this season's contestants of Dancing With the Stars, but as it turned out the score spread held fast with the bottom and top staying more or less the same.  To say that last week was without consequence wouldn't be true at all, since it did give audiences a chance to warm up to the competitors, or cool off.  In either case, the first few eliminations on Dancing With the Stars usually have less to do with the dancing scores and more with who the audience simply 'likes'.  Some pro dancers also have fan-bases of their own, which can skew things considerably, but in general how well known someone is can certainly be what carries a contestant through at this phase.  On that note, let's do some predicting.
The Scores
If we are looking at the scores,  Zendaya and Val are safe at the top with 50 points, as is Kellie Pickler and Derek with 47 points of their own. Olympian Alexandra Raisman and Jacoby Jones are also very safe, score-wise, with their respective partners.
At the very bottom is D.L. Hughley and Cheryl Burke.  This week was their second time in a row landing in the bottom three, despite what appears to be a solid effort on D.L's behalf.  Working to his advantage, however, is his sense of humor.  He gets laughs, and laughs get votes.  Even though D.l. is a celebrity in many different genres, though, I'm not sure the laughs are enough.  Despite scores not meaning a lot, I do think D.L. is in trouble this week.
The lowest score going to Olympic skater Dorothy Hamill was just a bit ridiculous.  Hammil is an American treasure and I doubt voting audiences will be swayed by the Judge's assessment of her skills.
The Dancing With the Stars Bottom Three Prediction
One slot will definitely go to D.L. Hughley. As affable as he may be, D.L. has a tremendous uphill battle due to his scores and may lack the fan-base needed to compensate.  If D.L. is lucky enough to continue on the ballroom, he's going to need to get noticed next week in a big way or he will be eliminated in the very near future.
Slot two will go to Lisa Vanderpump and Gleb Savchenko.  The Real Housewife is her own worst enemy when it comes to likability.  She treats the contestant like some kind of excursion, and seems too above everything to connect with the audience at home.  Her success is something that should be respected for certain, but whether or not America wants to put up with her for another week is difficult to gauge.
Slot three, and this might be a surprise, should go to Wynonna Judd.  Not that she is in any way a poor performer, but her lack of energy makes her performances totally forgettable.  With middle of the road scores and an enormous fan-base Wynonna could stay in the contestant for several weeks, but expect a wake-up call tonight.
And the Eliminated Contestant is
Without question, Lisa Vanderpump will be eliminated tonight.  The Real Housewives are just people you usually don't necessarily root for, and at this phase of Dancing With the Stars likability is everything.