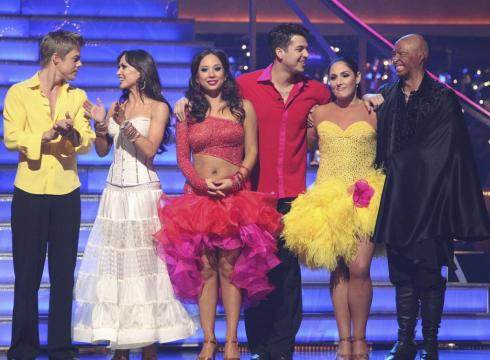 Tonight is the finale Dancing with the Stars performance show of Season 13, with the finalists, JR Martinez and Karina Smirnoff, Ricki Lake and Derek Hough and Rob Kardashian and Cheryl Burke battling for the coveted Mirrorball Trophy. The couples will compete against each other with two dances: one which the couples have not yet performed, and the fan favorite freestyle dance. See the rehearsal videos of all three contestants below. What are they dancing?
Rob & Cheryl: waltz and 'old school' freestyle
JR & Karina: ch cha and a salsa freestyle
Ricki & Derek: cha cha and 'mystery' freestyle
Updated: Read the results and rankings for the November 21 episode.
Ricki and Derek have been coy about their freestyle. Derek has said that it celebrates Ricki's life, from the old to the new. Could that mean the dance will begin with some old school flavor then segue into new, more modern hip hop moves? Just guessing here. Watch their interview with On The Red Carpet here.
The contestants will be scored for their two dances and the voters will get busy all night. On Tuesday's Dancing with the Stars Finale Results Show, the contestants will perform their favorite dances of the season which will be ranked, not scored — and I have no clue what the difference is. At some point Tom and Brooke will annouce the two couples with the highest combined totals of scores and votes from Monday night's performances (or just the third place winner), as well as the factored-in-somehow-rankings of the favorite dances. These two couples will perform an Instant Samba which will be scored. The outcome of this will determine the winner of the Dancing with the Stars Season 13 mirrorball trophy. Got all that?
How do the contestants feel about their chances at winning? They recently spoke to Access Hollywood, giving ever so tiny hints about what we can expect from them in the finals. JR assures that his injured ankle is in good shape, Ricki wants to savor her last dance experience and Rob just wants to have fun. Read the full article here.
The Results Show will also feature the return all the ousted season 13 contestants for special performances (Anna Trebunskaya says her dance with Carson Kressley will be spicy!!) And yes, even Hope Solo and Maks Chmerkovskiy will appear, despite all the recent drama.
Do you know that Derek has never been in the Finals and NOT won? Can JR or Rob change that piece of DWTS history? Who will you be rooting for tonight? Leave your comments below. Dancing with the Stars Finale Performance Show airs Monday, November 21 from 8 p.m. to 9 p.m, and the Finale Results Show is a 2 hour event on Tuesday, November 22 from 8 p.m. to 10 p.m. on ABC.