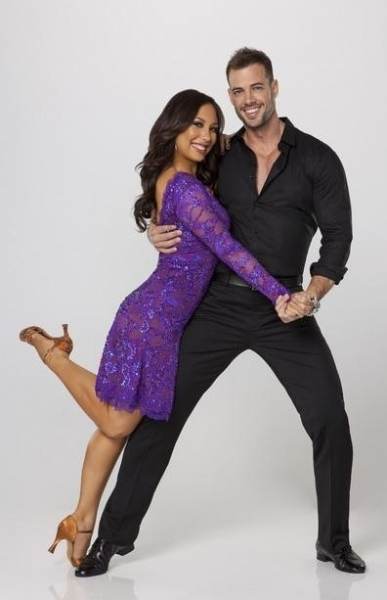 Season 14 of Dancing with the Stars is underway and the competition is nothing short of fierce. There was so much potential on the ballroom floor, this could be the best season yet! Everyone danced really well, but there was some amazing talent that will definitely make for a very tough season. Tough on the contestants, but enjoyable for diehard fans. Host Tom Bergeron even labeled this premiere the best in the history of Dancing with the Stars.
British opera star Katherine Jenkins and the actor behind America's most loveable TV character Urkel, Jaleel White, tied for first place with a 26, one of the highest scores ever in a Dancing with the Stars season premiere. But, there was one break out star of the night and I think, of the season, and that is Telenova and JLo video star William Levy. Dubbed the latin Brad Pitt, he is going to be the one to watch: With latin animal magnetism and charisma ala Ricky Martin in his heyday, William had the crowd swooning. And oh yes, he can dance! But, it's his hotness that caused partner Cheryl Burke and judge Carrie Ann Inaba to outright thank ABC for their jobs. William's performance (see video below) inspired judge Bruno Tonioli's most come hither quote of the night 'the hottest package of the season', right after he licked his lips. Okay that was gross, but true. Bruno's antics aside, I can already see William in the finals.
Other stars who showed great promise were Jack Wagner, Donald Driver, Gladys Knight, Sherri Shepherd and Roshon Fegan. Disney star Roshon (and William!) must have pro dancers Derek Hough and Mark Ballas shaking in their ballroom shoes right now. That boy can really dance, and he has the whole Disney audience behind him. Although Gavin DeGraw, Melissa Gilbert and Martina Navratilova danced nicely, they find themselves at the bottom of the pack.
Here are the Dancing with the Stars leader board rankings for Week 1:
-Katherine & Mark 26
-Jaleel & Kym 26
-William & Cheryl 24
-Jack & Anna 23
-Roshon & Chelsie 23
-Sherri & Val 23
-Gladys & Tristan 23
-Maria & Derek 21
-Donald & Peta 21
-Gavin & Karina 20
-Melissa & Maks 20
-Martina & Tony 20
All the couples will have a second chance to dance next Monday, March 26 in week 2 of Dancing with the Stars, beginning at 8 p.m. (ET) . They will be performing either a quick step or a jive. The votes and scores from Weeks 1 and 2 will be tallied for the Dancing with the Stars Results Show which will air Tuesday, March 27 at 9 p.m.(ET) on ABC.