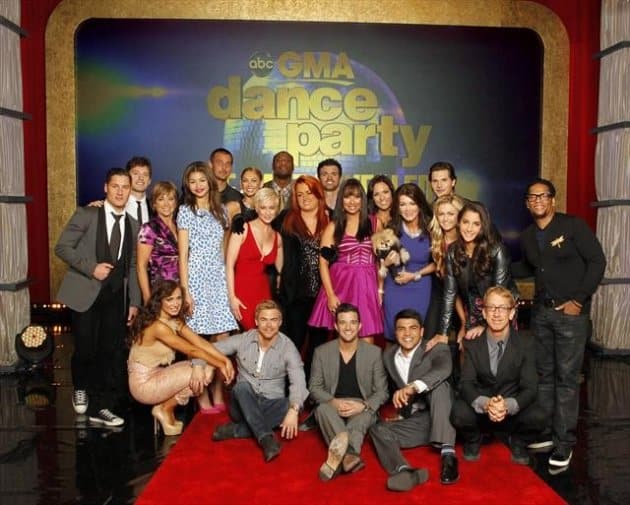 Following the leaking of several Dancing With the Stars cast members yesterday, ABC has officially confirmed the entire season 16 cast list, as well as the pairings.  The new season of Dancing With the Stars premieres on Monday, March 18 (8:00-10:01 p.m., ET) on ABC.
ZENDAYA COLEMAN (Partner: VAL CHMERKOVSKIY) — Actress and singer Zendaya Coleman stars as Raquel "Rocky" Blue, one half of the comedic duo in the hit Disney Channel series "Shake It Up!," and is currently recording her debut album on Hollywood Records.
ANDY DICK (Partner: SHARNA BURGESS) — Andy Dick is an American comedian, actor, writer, director, musician and producer.
DOROTHY HAMILL (Partner: TRISTAN MacMANUS) — Dorothy Hamill captured the Gold medal at the 1976 Winter Games in Innsbruck, Austria at the age of 19.
D.L. HUGHLEY (Partner: CHERYL BURKE) — D.L Hughley, one of the most popular and highly recognized standup comedians on the road today, has also made quite an impression in the television, film and radio arenas. 
JACOBY JONES (Partner: KARINA SMIRNOFF) — Jacoby Jones is a professional football player for the Baltimore Ravens, the 2013 Super Bowl Champions.
WYNONNA JUDD (Partner: TONY DOVOLANI) — Five-time Grammy winner and New York Times bestselling author Wynonna Judd has always revolved her career around telling stories. Whether performing alongside her mother as one half of the legendary duo The Judds or pushing the boundaries on her own mega-successful solo path, Judd's ability to reach the heart of the human spirit through her bold and unflinching honesty is the entertainer's true gift.
VICTOR ORTIZ (Partner: LINDSAY ARNOLD) — As former Welterweight boxing champion, Ortiz finally found his life's calling as a world class athlete. The nickname "Vicious" describes Ortiz when he's in the ring, but his million-dollar smile is a preview to his heart of gold.
KELLIE PICKLER (Partner: DEREK HOUGH) — At the age of 19 she gained fame as a contestant on the fifth season of "American Idol," and in 2006 signed to 19 Recordings/BNA Records to release her debut, "Small Town Girl," which went on to sell over 800,000 copies and produce three singles — "Red High Heels," "I Wonder" and "Things That Never Cross a Man's Mind."
INGO RADEMACHER (Partner: KYM JOHNSON) — Soap Opera star Ingo Rademacher is best known to audiences as the charismatic Jasper "Jax" Jacks on ABC's "General Hospital."
ALEXANDRA RAISMAN (Partner: MARK BALLAS) — Just 18 years old, Alexandra Raisman captained the U.S. Women's Gymnastics Team to its first team Gold medal since the 1996 Olympic Games.  In her career Raisman has accumulated 19 international medals and eight U.S. Senior National Championship medals, earning a reputation as one of Team USA's most consistent performers.
LISA VANDERPUMP (Partner: GLEB SAVCHENKO) — Hailing from London, restaurateur, designer, author, philanthropist, producer and television personality Lisa Vanderpump moved to the United States eight years ago. Vanderpump is best known for "The Real Housewives of Beverly Hills," which she joined in 2010.