All of you Dancing With the Stars junkies have to admit:  Seeing Mark Ballas and Shawn Johnson together again last night was, well, magical. And the perfect 30, the only one of the night, kind of cements that perspective.  Watching the dance was a flashback to the grace, strength, and artistry that handed Ballas and Johnson the Mirror Ball in 2009's Dancing With the Stars, and for a minute there I wanted to relive it all over again.  For some photos from the performance, click on the arrows above. Derek and Shawn have been formidable, but the question of chemistry has hung heavy this season.  This is an issue for many of the returning competitors who wound up with different partners.  In some cases it has worked out for the better, in others not so much.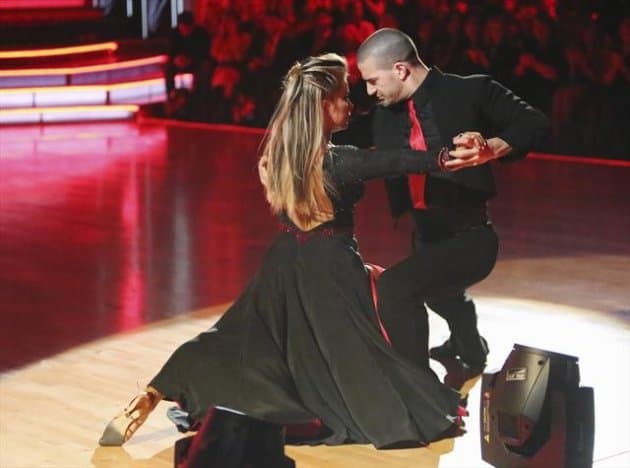 So today the quotes circulating around the internet have Derek Hough giving an update on his condition and his 'hopes' to return to Dancing With the Stars All-Stars next Monday.   Hough described his pain to Us-Weekly. "It's discomfort. The pain will be up and down, I had a proper diagnosis this morning and I am going to have to have surgery on it eventually. The bone is just rubbing on the nerve. But you know, I'm not going to do any more damage to it and I'm going to keep going and keep going strong."
It is still unclear whether Derek will return next Monday or not, but in the course of the conversation with Us it was also revealed that Hough had worked with Ballas to perfect the routine that won a perfect 30 this Monday.  Johnson working with two pros has to have some of the competitors fuming, particularly as the contest tightens around an apparent Shawn Johnson, Gilles Marini, and Emmit Smith finale.
So while we await the word that Derek will return, I want to know:
[polldaddy poll=6669308]