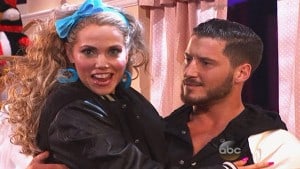 There is one TV moment from my childhood that I hold in higher regard than all others. A moment so cheesy and awesome, it trumps anything else is stands next to. That moment was from Saved By The Bell. It was when Jesse Spano (Played by Elizabeth Berkley) had to sing "I'm So Excited" for the school talent show, but some caffeine pills got in the way. Well, last night on Dancing With The Stars, Elizabeth Berkley recreated that moment, and forever cemented herself as the most self-aware star in Hollywood.
Huffington Post has the video, and if you are a child of the 90′s like me, you need to stop what you are doing and watch it right now. It is one thing to inadvertently make one of the cheesiest TV scenes ever as a young actor. But it takes real chutzpah to have the courage to recreate it and make fun of yourself, and that is just what Elizabeth Berkley did, to great affect. I can openly admit that I have never been a Dancing With the Stars fan. But after Bill Nye danced to Daft Punk, and now Jesse Spano recreating her famous flip out from Saved By the Bell, I just may be a fan.
Seriously. It was THAT good!