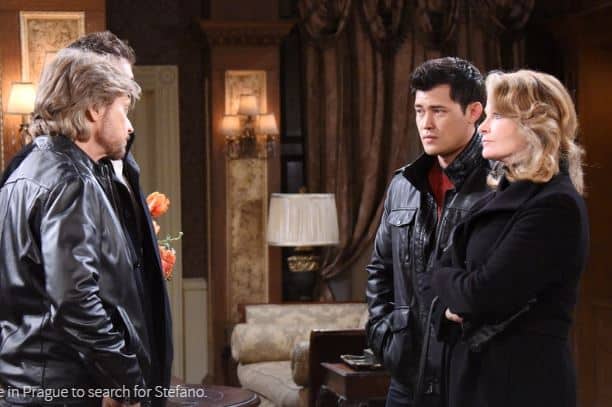 Days of Our Lives is back and new again today, and things are heating up. Hope was caught on tape admitting she killed Stefano, and Andre put her in jail for killing his father. However, we have a good reason to believe Stefano is alive and well, and it's up to Steve and Marlena and their team to find him in Prague. Does Andre know his father is alive, and was he only looking for a way to put Hope in jail and punish Rafe at the same time? We have a reason to suspect this might very well be the case. Is Andre working against the people in his community to cover up something that might end up even bigger and more insane than we thought? And how much longer can Hope hold out in jail before her enemies are able to gain access to her and hurt her more than they have already? Her time is running out, and Rafe has little time to find Stefano.
Chad is in a rough place with work and his family. He's not sure how to keep the business going with so many people upset with him, his home life is a mess, and perhaps his father is alive and well after all. It would be a bit of a shocker to find out his dad didn't die last year just a few days after finding out the wife he mourned after her death wasn't dead, either. We aren't even sure Chad can handle that kind of information without turning to Gabi more so than he has already.
Unfortunately, he's made Deimos mad, and Deimos doesn't handle things like that very well. We hear he's going to have Gabi and Abby kidnapped and held hostage until Chad makes things right with him. Will being kidnapped and going through similar terror to what she went through last year make Abby wish she'd stayed fake dead, or will she handle this like a champ and be there for her family when things finally work out for the best for everyone in question? We don't know where this is going.