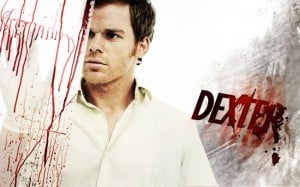 There are shows that become extremely successful, and no one questions why. It just makes sense. It may be an a character who people find easy to relate to, or it may be because the show taps into something everybody thinks about. I think the success of Dexter is due to both of those things. I think we all have a dark side, and watching Dexter do his thing (which is to say, kill horrible people) it makes us all feel a little less hopeless and powerless about a world crumbling before our eyes. Well, Dexter fans get ready, because we are only three episodes away from the last episode ever.
This is leading many people so speculate (yay, my favorite) on how the show will end. Though one of the joys of watching Dexter is how many false leads we get as viewers, and just how well thought-out the show ends up being, I feel the end may toss us a curveball. For viewers, the show goes left when you expect it to go right, and that keeps rabid fans on their feet, not sure what to expect next. But, for those curious, I can tell you how I think the show will end. Keep in mind, this is just me giving my version of what I THINK would be a cool endings. I have no leads and know no one important enough, so this is just a wild guess on my part and nothing more.
Having said that, I truly believe it will be Deb who takes out Dexter at the show's finale. There has just been an exquisite back-and-forth to their relationship, and the stuff Debs knows about him now, mixed with her sensitive mental state we saw her in recently, to me, that just hints that this show will end with a civil war between Dexter and Deb, with Deb potentially winning. If you think about their ever evolving dynamic on the show, think of the impact that would have on any fan of the series.
Well, in three weeks times, we will all be able to see just how accurate I am (or aren't) about Dexter's fateful end.