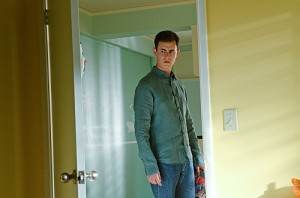 First let me say that in my opinion Colin Hanks is much better as an ominous delusional sociopath then he is as a begrudging assistant. If there is one area this season of Dexter struggled with it was in defining the big bad. Edward James Olmos was tragically underutilized, and Hanks as his sniveling sidekick was tedious to say the least. Definitely not the gold standard as far as seasons of Dexter are concerned, but from the looks of these finale clips it looks like there may be a way to salvage this season and end up with at a least a 'sub par' and not a terrible. If only the big bad subplot had connected more with the Brother Sam riffs and drawn Dexter into a more compelling inner dialogue on faith, ritual, and all things existential.
The only thing that really bugs me about these Dexter previews is that the first video plainly forecasts a revisit to the pseudo-incest territory that leaped into Deb's dreams last week. Can I get an 'ewwwwwwww' please? The Dexter writing staff had already finished their work before last week's dream kiss turned stomachs around the globe, but thankfully there is plenty of time before season 7 for them to pretend it never happened. Hopefully.
Use the arrows at the top of the page to flip through a collection of photos from tonight's Season 6 Finale of Dexter, airing tonight at 9pm EST on Showtime.