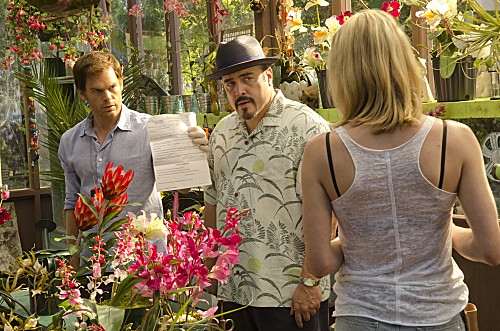 Very minor spoilers ahead!  When it was first announced that Chuck star Yvonne Strahovski would be joining the cast of Dexter Season 7, a lot of people jumped to the conclusion she would be playing some sort of FBI agent.  Talk about being typecast by the press!  Having seen the episode in which Yvonne first appears, Dexter 7.03 "Buck The System", I can now reveal that the lovely Ms. Strahovski's character, Hannah McKay, does not play any type of secret agent, does not know any martial arts, and is not packing any discernible weapons.  She is, in fact, a hortacologist.  Sound boring?  Wait, there's more.
Hannah does indeed have a connection to a significant event that occurs in Dexter's presence during Season 7, and her connection to someone Dexter runs into and their background suggests she may yet have some history with Dexter.  Aside from these more sinister clues, I can say that yes, it would be fair to suggest Hannah may represent a significant personal connection for Dexter in Season 7, and perhaps even beyond.  Perhaps even on the Rita level, if you get what I mean.
Like many things in Dexter Season 7, Hannah's ultimate purpose seems to be something the writers are content unreeling slowly.  By the end of 7.03, you will NOT know even how she could possibly recur, that is how tangential her first appearance seems.  But keep an eye out for subtle clues that may or may not indicate a connection with Dexter.  In a few words:  Ice cream.