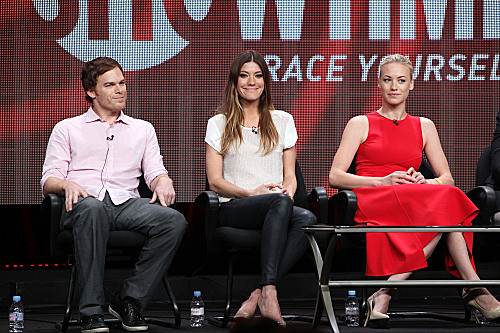 When the whole Dexter (Michael C. Hall) and Deb (Jennifer Carpenter) potential-romance thing came into play, there was a sort of collective 'ick' from a lot of the fan-base. Dexter has formed its brand around making the audience accepting of a serial killer so it's really no surprise that they would attempt something with this high of an ick factor, but the whole pseudo-incest thing was really pushing it. Thankfully, their master plan came into focus the moment Deb walked in on Dexter in full-on ritual kill mode. At today's TCA panel for Dexter, executive producer Sara Colleton gave the two controversial beats even more context. "She stumbles upon it in the middle of her emotional override: not only does she love her foster brother but she's feeling she's in love with him. It's an emotional reason why she goes there and it's the last thing she expects to find in Dexter in one of his kills."
Perhaps the most compelling headline to come out of the panel was the insinuation that Dexter could continue past season 8. It has been somewhat collectively assumed that Season 7 and 8 were the end of Dexter, put Showtime president said the series could go beyond season 8.
Series star Michael C. Hall commented on this making a season 9, or beyond, sound a little less likely. "The most fundamentally game-changing development since we started telling this story. Deb finding out does make an end game feel a little more palpable and imminent. The plan is to do this season and a final eighth season to tell the story of the two of them negotiating their relationship in this new landscape."
Click the arrows at the top to check out more photos from the panel.