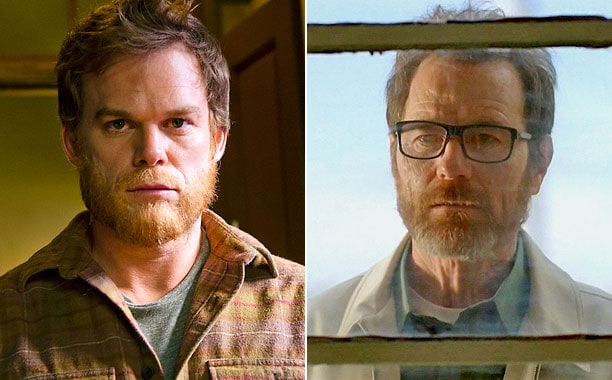 First of all I find this side by side to be extremely freaky.   I'll bet those who watched both the Dexter and Breaking Bad finale wouldn't have imagined the lumberjack facial look on both characters.   By the way, for those who are still wondering what in the world happened to Dexter, some light has been shed on why it was so poor compared to the expected, appropriate and necessary ending to Breaking Bad.   According to Entertainment Weekly, the planning that went into each finale was undeniably different.
According to EW, "For Dexter, the series finale was basically decided years ago. Showrunner Scott Buck pitched a conclusion to Showtime, the network liked the idea, and that was what you saw. "The kernel idea were the last few scenes," Buck said. "They were what I pitched a few years ago … those final scenes were pretty much unchanged."
Whereas Breaking Bad? "For Breaking Bad, the ending was the result of considerable debate. Creator Vince Gilligan and his team brainstormed 30-40 very different endings, with each being defended and justified, in a search of the very best possible ending."
If this is in fact true, then Dexter has a lot of explaining to do. And this doesn't even justify every single other episode of the final season being up to snuff. However, we must remind ourselves that while one ending appeared to be the creation of one man, had it been a great ending (or season for that matter) on Dexter, none of us would have been talking about this. Though it stands to reason that the committee process clearly won out this time.
We're still searching for answers on why Dexter was so poor this year.